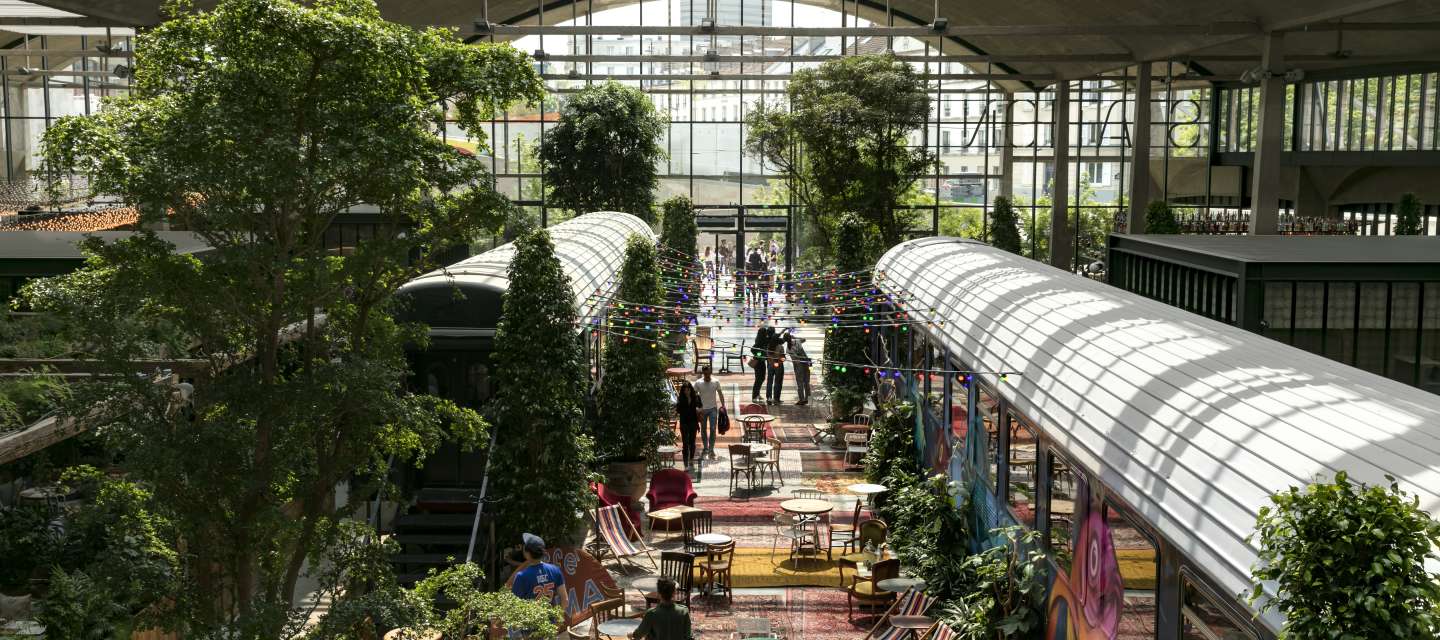 Food Courts : the trendy venues of Paris Region
Inspiration

Food Courts : trendy venues in Paris region
A great diversity and conviviality prevail in these gourmet food halls. These trendy and festive places have opened their terraces and launched take-away sales, while waiting to enjoy their XXL spaces.
The Mediterranean Option
After Turin and New York, Eataly has now opened a branch in the Marais, in the centre of Paris. The hams hanging from the ceiling, brightly coloured shelves of fruit and veg, fresh and dried pasta, Italian bakery and wine cellar all bring to mind a market square in Italy.
The Hipster Option
La Felicita, the Big Mamma group's food court offering, a vast 4,500-square-metre area which includes five kitchens and three bars, is going strong after the successes of Pink Mamma and Biglove Caffé! Enjoy wandering through the space with its leafy plants and rows of fairy lights.
There's plenty of choice for eating, between the trattoria counters, pizzeria, and burger joint. You can enjoy it all, sitting next to your neighbours at the long trestle tables, in a super-friendly atmosphere enlivened by the great DJ sets.
The Elegant Option
At the top of the Printemps de l'Homme men's department store, Printemps du Goût brings together the biggest names in the French food world — artisans, chefs and meilleurs ouvriers de France such as Christophe Michalak and his cakes and pastries, Laurent Dubois and his cheese, bread by Gontran Cherrier and Byzance caviar.
It's a great spot to do food shopping or taste the best France has to offer when it comes to food.
The Select Option
On the lower ground floor of the Galeries Lafayette des Champs-Elysées, 10 specially selected food counters are waiting in a modern food court that is a mix between a delicatessen, takeaway and chic canteen.
The culinary delights of Maison Kaspia, Verot and Stohrer can be enjoyed at brass-topped tables in this extremely Instagrammable, glamorous food court.
Urban
Just next door to Saint-Germain-des-Prés, good food can be enjoyed on the spot or to go at Beaupassage.
This very contemporary venue is home to leading lights on the French food scene: Thierry Marx has a bakery there, Anne-Sophie Pic dishes up gourmet snack food; there's Yannick Alléno's wine cellar, Alexandre Polmard's butcher shop, cheese by Nicole Barthélémy and Pierre Hermé's café.
Sassy Street Food
The hippest of all can be found near Gare de Lyon, at Ground Control, a hybrid, multidisciplinary space to eat, grab a drink, chill out or go to a concert. The vast, 4,500-square-metre indoor space offers specialities from around the globe, which you can tuck into at the big wooden tables.
From Mexican and Chinese to Indian, African, Taiwanese and Greek food, there's plenty to satisfy all tastes and appetites!
Oh-So-Chic
No need to introduce this institution of good food. La Grande Epicerie du Bon Marché is classy, elegant and a staple of gourmet shopping, located in one of the two buildings of the temple of Parisian chic.
On its shelves you will find the best food produce from around the world, from France to the United States, not forgetting the United Kingdom - culinary voyage guaranteed!
New Kid On The Block
In the north of Paris, Paddock is the new shopping and lifestyle destination featuring a gigantic food hall, with no fewer than 10 restaurants.
The names alone will make your mouth water: grilled meat at Melt, the seafood counter Bulot Bulot, Korean cuisine at Dochilak, Vietnamese food at Mekong Kitchen, ceviche specialist Cru, and the New York Italian IT Trattoria.
A round-the-world tour of gastronomy in 4,000 square metres!
Copyright image: Jérôme Galland