Tasting Paris Region: the best local produce and specialities
Inspiration

Tasting Paris Region: the best local produce and specialities
Indulge in regional products and specialities from the Paris Region!
Brie cheese from Meaux and Melun, watercress from Méréville, peppermint from Milly-la-Forêt, not to mention Brie beer and button mushrooms—Paris Region boasts tons of delectable local products. These are certified "Paris Region Food Tour" and "Made in Paris Region", labels that guarantee quality and authenticity for the consumer. A showcase for French culinary heritage, the Paris Region Food Tour label highlights and promotes the best dining locations in the city and surrounding region.
Gourmet stopovers including six major spectacular sites: The route includes the Hotel de la Marine (the first to open its doors), the old Poste de Versailles, the Halle Gourmande of Saint-Ouen, the Cité du Goût in Noisiel, the French Pavilion from the Milan World Expo, reconstructed in Tremblay-en-France, and the Maison des Fromages de Brie in Coulommiers.
The Food Tour takes you to unique cultural sites where you'll meet local producers wholly devoted to their craft and expertise. The complementary "Made in Paris Region" label is meant to recognise the cultural richness of the region and the people who help create it. Authenticity, local quality and pride… the certified producers proudly represent the colours and flavours of Paris Region!
Brie cheese from Meaux and Melun: Maison du Brie de Meaux
Brie in Seine-et-Marne is what cheese is to French cuisine: inseparable! Meaux, Melun, Coulommiers, Montereau are all Brie-producing towns in this department located east of Paris. There's no disputing the worldwide fame of this soft cow's milk cheese with its beautiful blossomed rind!
While waiting for the opening of the Brie cheese house in Coulommiers, La Maison du Brie de Meaux welcomes you for a discovery tour of Brie de Meaux AOP. Discover the different stages of its production, from harvesting the milk to the cellar ageing. You'll be an expert in no time!
Farm-fresh watercress from Villa Paul
Watercress is prevalent in Essonne, due to the presence of pure springs, essential for its growth. In a protected natural setting, the watercress of Méréville—an iconic product of Paris Region—stands out from other watercress for its sweetness and smoothness.
The Villa Paul watercress farm is located in the heart of the Juine Valley, a natural reserve in Paris Region. The Barberot family has been cultivating organic watercress for five generations on 3.5 hectares. Besides the fresh bunches of watercress, other products are sold on the farm: soup, sauce base, aperitifs, and more. Take a guided tour with the farmers to learn more!
Brie beer: Rabourdin Brewery
The craft beer boom keeps delivering incredible products. Try different 100% pure malt beers, made exclusively with the barley grown at the farm of the Rabourdin family brewery. These artisanal craft beers are unfiltered, unpasteurised, and contain no added carbon dioxide or preservatives.
White, blond or amber, these beers come in three varieties to suit all tastes: Briarde, refreshing and fruity; Brie, authentic and spicy; and Terrano, slightly tart. Plan a visit to the brewery, which always includes a tasting session.
Peppermint: National Conservatory of Perfume, Medicinal and Aromatic Plants
Milly-la-Forêt peppermint is a robust, aromatic, perennial plant resulting from a cross between spearmint and black mint. Its peppery leaves are used to flavour dishes, desserts and herbal teas, for a guaranteed refreshing touch.
A genuine place of conservation and promotion, the National Conservatory of Plants is at once a nursery, a botanical garden, an agricultural research centre and an interpretation centre.
Round off a sense-awakening walk through the rich collections of over 1,500 plants, including peppermint, with a stroll through the Conservatory's astonishing museum.
Want to learn more about botany, cultivate your own seeds, grow herbs and medicinal plants, or transform wild plants into delicious recipes, health formulas or vegetable dyes? You're in the right place!
Paris Mushrooms at La Marianne farm
In Méry-sur-Oise, in a former stone quarry that ran until the end of the 18th century, you'll find one of the last mushroom farms in the Paris Region.
For four generations, the Zamblera family has cultivated mushrooms in the many tunnels created by previous quarry operators. Six varieties are grown at La Marianne mushroom farm: classic button mushrooms (Paris mushrooms), grey, pink and yellow oyster mushrooms, shiitake mushrooms and poplar mushrooms. These fresh mushrooms will delight all gourmet fans.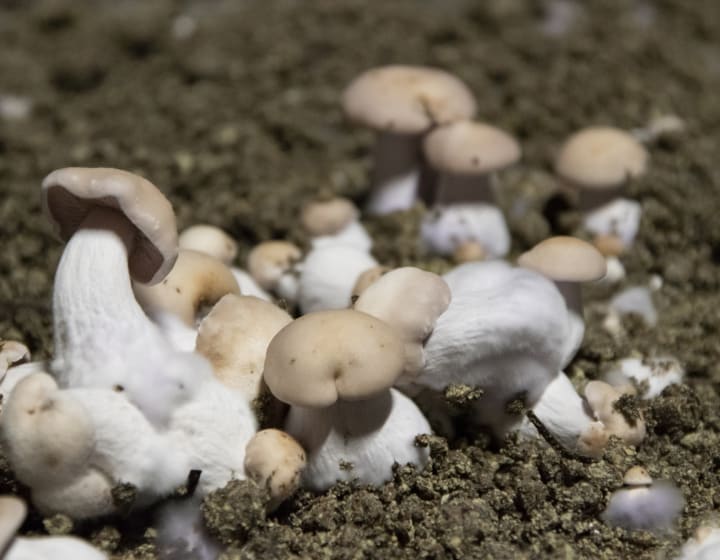 Other regional products
You might also like
Top 5 unforgettable gastronomic experiences in Paris Region
Copyright image: CRT IDF/Tripelon-Jarry