Where can you find summer sales in Paris Region?
Inspiration

Where can you find summer sales in Paris Region?
What better place to find fashion sales than in Paris Region? All the ultra-trendy items of summer—the chic bohemian dresses, the tie-dye jumpsuits, the new micro-skirts that everyone is talking about—are yours for the taking. Monochrome, silver, crocheted…find all the rare gems at low prices, the ones you'll love to wear on the city's most beautiful rooftops or for lunch on the terrace.
Summer sales in Parisian department stores
During the sales period, you'll be sure to find the best fashion, accessories and beauty products in the city's department stores. These shopping meccas are full to bursting with Parisian chic trends you won't find anywhere else in the world!
Summer sales at Galeries Lafayette Paris Haussmann
Galeries Lafayette Paris Haussmann is the flagship of French fashion, attracting fashionistas from around the world every day, who twirl underneath the breathtaking Art Deco cupola in search of that unique item. A Parisian icon and a stunning locale, the store boasts 65,000 m2 of retail space across three distinct buildings, with over 3,500 fashion brands ranging from affordable to luxury: Chanel, Dior, Louis Vuitton, Saint Laurent, Céline, Cartier, Chaumet, Longchamp, Guerlain, Sisley, Maje, Sandro, The Kooples, ba&sh… On the fourth floor, find the trendy sneaker or sandal of your dreams in the largest shoe shop in Europe! And in addition to its Go for Good label, which highlights fairer, more sustainable products, Galeries Lafayette has opened (Re)Store, a new space dedicated to responsible fashion and second-hand items on the third floor of the main store. A great place to enjoy guilt-free shopping!
Summer sales at Printemps Haussmann
This historical monument is the perfect setting for all the greatest luxury brands of Paris: Givenchy, Vuitton, Chanel, Isabel Marant, Olivia Burton, Erès… Printemps Haussmann offers 45,000 m² of chic, carefully selected shopping items, as well as a men's store, a delicatessen, a beauty and perfume shop and Le 7ème Ciel, the new mecca of slow fashion, which, with its 1,300m² of floor space, is the largest shop dedicated to designer fashion and luxury vintage items in a department store. After finding that rare gem that everyone will envy you for, head to the Perruche rooftop bar-restaurant and enjoy its breathtaking view of the Paris monuments, or stop by the new Bleu Coupole restaurant and tea room under the magnificent Art Deco cupola on the sixth floor, for a holiday vibe right in the heart of Paris!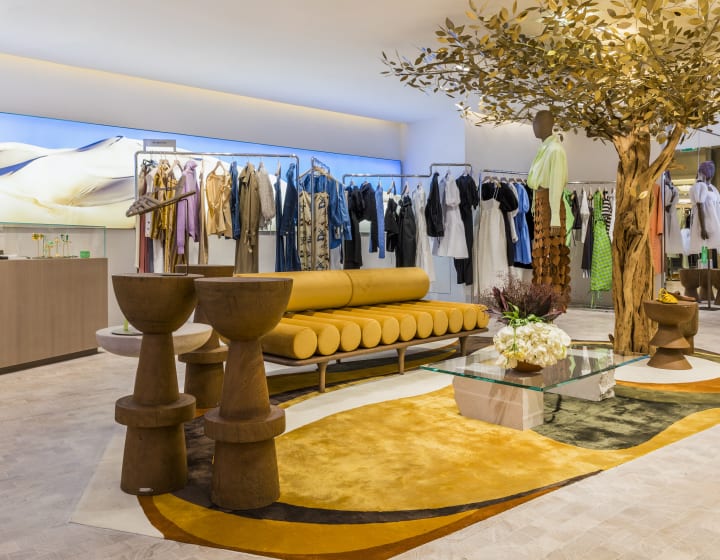 Summer sales at La Samaritaine
20,000 square meters, 7 floors, a facade combining Art Deco, arabesque and enamelled lava decorations in the Art Nouveau style, an ultra-modern glass architecture, a luxury Cheval blanc hotel, a rich and varied range of restaurants for a well-deserved gourmet break…La Samaritaine has regained its revered status and taken its place among the great Parisian department stores. The must-see locale of the Belle Epoque era spotlights French brands that work with luxury designers such as Dior or Louis Vuitton, as well as lesser-known labels such as The Frankie Shop, Maison Kitsuné, In the mood for love, etc. La Samaritaine, the ultimate in Parisian chic, is just a few steps from the Louvre Museum!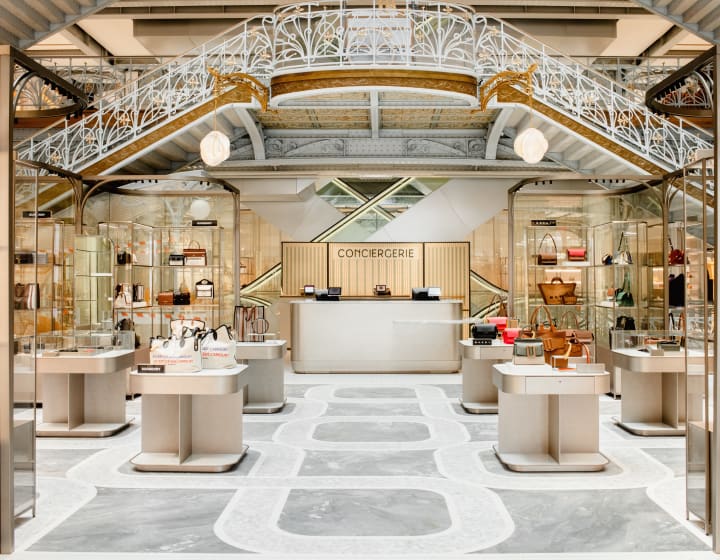 Summer sales at Galeries Lafayette Champs-Elysées
This is a PSA for Pretty Women everywhere: the Galeries Lafayette Champs Elysées is the place to go for ultra-stylish and oh-so trendy sales this season. The experience begins as soon as you walk in, with a long, contemporary tunnel opening out under the magnificent Art Deco dome onto concessions each more achingly sophisticated than the last. There are also 150 personal stylists on hand to assist you in your shopping endeavours – all you have to do is say the word. With fashion, lifestyle, beauty and more to choose from, the selection on offer at this next-generation department store is surprising… and simply irresistible. Make sure to end the day on a high note by grabbing a seat at Le Mun, a bar and restaurant whose terrace overlooks the most beautiful avenue in the world.
Summer sales at Bon Marché Rive Gauche
The oldest department store in Paris opened in 1852, and is still as elegant and sophisticated as ever.
Located in the heart of Saint Germain des Près, in the Arts et Lettres district, Le Bon Marché has become a symbol of the Left Bank and its characteristic art de vivre.
In this uniquely-crafted setting, the most prestigious names rub shoulders with a selection of exclusive brands and promising designers. It's an experience unlike any other, from the luxury to the design, not to mention the Grande Epicerie de Paris, the undisputed mecca of good food, where the shelves are teeming with sweet and savoury delights from around the world.
Summer sales at BHV Marais
It's the lifestyle store par excellence and Parisians' favourite place to shop. You'll love its friendly, relaxed atmosphere, its home section, its emphasis on brands with a French Touch, and its legendary, inspiring DIY section. And for the gentlemen, there's BHV Marais Homme: four floors all dedicated to men's fashion, from street wear to designer collections, tailor suits and accessories.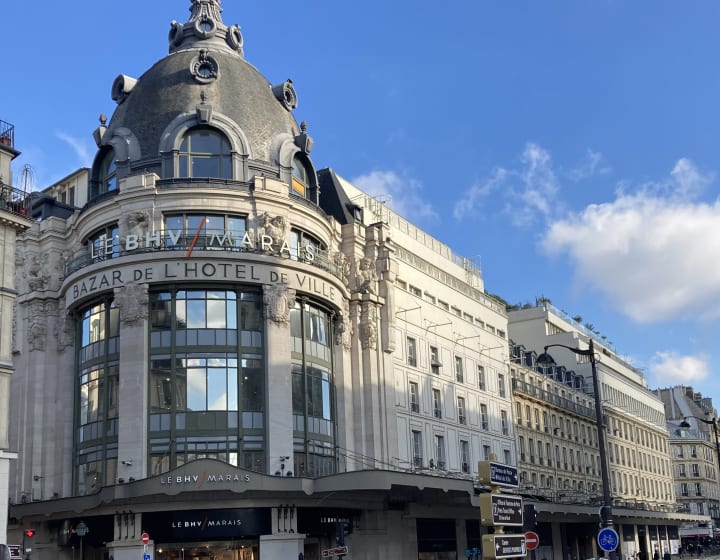 Fancy a sale that favours French design? Check out our list of the top French-made items.
L'Appartement Français
You are going to love hitting the sales in this confidential boutique in the heart of the Marais, designed like an apartment where absolutely everything is for sale and where Made in France and eco-responsible fashion are the watchwords.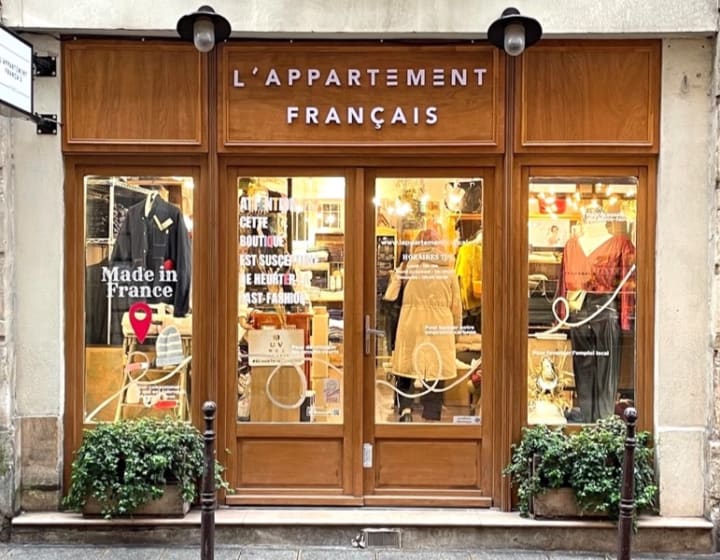 C'est extra
Absolutely quirky and politically incorrect, this shop in Montmartre is a great place to dig up the best Parisian crafts and creations. The Sophie Cano jewellery bags and the Kebab overalls are waiting for you!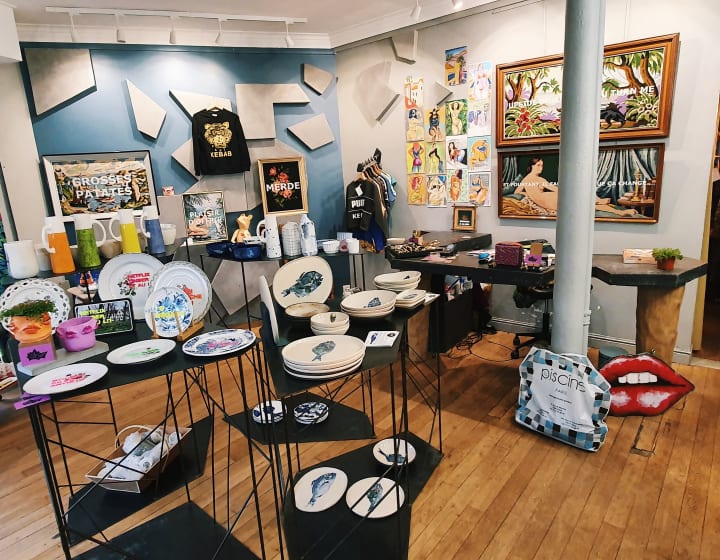 Inès de la Fressange
The ultimate Parisian icon has opened up her wardrobe in the heart of Saint-Germain-des-Pres, offering a cheerful mix of materials, prints and zingy colours for a summer look that's part urban, part rural. A timeless style with a mix of classics and fantasy!
Empreintes
Tableware, decorations, design, lifestyle, jewellery, furniture, lighting, cabinets full of curiosities and exceptional pieces… Located in Marais, Empreintes is a concept store entirely dedicated to arts and crafts. Unique items for yourself or your loved ones!
La Fabricature
Nestled in the Saint-Louis district, this concept store showcases French-made products a stone's throw from the Château de Versailles. Whether you're looking for fashion, jewellery, accessories, knick-knacks or furniture, it's time to give in to French craftsmanship with more than thirty French brands.
Special events, clearance sales, promotions...
Looking for even more deals? This summer, all the outlets are slashing prices in the Paris Region.
You might also like
Copyright image: Adobe Stock/Monet