Wild summer sales in Paris Region!
Inspiration

Wild summer sales in Paris Region!
Although e-commerce, home delivery and click & collect services allowed us to continue shopping remotely during the long months of confinement, what a pleasure it is to get back to stores and enjoy fashion at an affordable price! The event offers a unique opportunity to shop for romantic bohemian dresses, low waist trousers and clogs, or a total denim look, which are ultra trendy this summer—exactly what you need to celebrate the reopening.
Summer sales in Parisian department stores
During the sales period, you'll be sure to find the best fashion, accessories and beauty products in the city's department stores. These shopping meccas are full to bursting with Parisian chic trends you won't find anywhere else in the world!
Trendy sales at Galeries Lafayette Paris Haussmann
Galeries Lafayette Paris Haussmann is the flagship of French fashion, attracting fashionistas from around the world every day, who twirl underneath the breathtaking Art Deco cupola in search of that unique item. A Parisian icon and a stunning locale, the store boasts 65,000 m2 of retail space across three distinct buildings, with over 3,500 fashion brands ranging from affordable to luxury: Chanel, Dior, Louis Vuitton, Saint Laurent, Céline, Cartier, Chaumet, Longchamp, Guerlain, Sisley, Maje, Sandro, The Kooples… On level -1, a space entirely dedicated to shoes awaits you with a selection of 150 brands. And because Galeries Lafayette moves forward with the times, it now offers fairer, more sustainable products to its customers as part of its GO FOR GOOD campaign.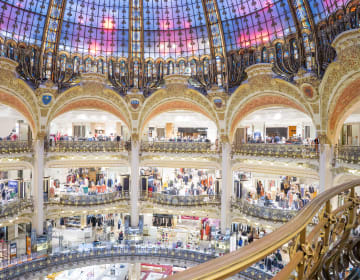 Chic sales at Printemps Haussmann
This historical monument is the perfect setting for all the greatest luxury brands of Paris: Givenchy, Vuitton, Chanel, Isabel Marant, Olivia Burton, Erès… Printemps Haussmann offers 45,000 m² of chic, carefully selected shopping items, as well as a men's store, a home store and a beauty and perfume area. Not to mention the gourmet experience at Printemps du Goût, with its delicatessen fare, food market and renowned all-French chefs' stand, as well as the rooftop bar and restaurant Perruche, which is the talk of the whole town—an ideal place for ending a day's shopping.
A new breed of sales at Galeries Lafayette Champs Elysées
This is a PSA for Pretty Women everywhere: the Galeries Lafayette Champs Elysées is the place to go for ultra-stylish and oh-so trendy sales this season. The experience begins as soon as you walk in, with a long, contemporary tunnel opening out under the magnificent Art Deco dome onto concessions each more achingly sophisticated than the last. There are also 150 personal stylists on hand to assist you in your shopping endeavours – all you have to do is say the word. With fashion, lifestyle, beauty and more to choose from, the selection on offer at this next-generation department store is surprising… and simply irresistible. Make sure to end the day on a high note by grabbing a seat at Le Mun, a bar and restaurant whose terrace overlooks the most beautiful avenue in the world.
Exclusive sales at Bon Marché Rive Gauche
The oldest department store in Paris opened in 1852, and is still as elegant and sophisticated as ever.
Located in the heart of Saint Germain des Près, in the Arts et Lettres district, Le Bon Marché has become a symbol of the Left Bank and its characteristic art de vivre.
In this uniquely-crafted setting, the most prestigious names rub shoulders with a selection of exclusive brands and promising designers. It's an experience unlike any other, from the luxury to the design, not to mention the Grande Epicerie de Paris, the undisputed mecca of good food, where the shelves are teeming with sweet and savoury delights from around the world.
Parisian sales at BHV Marais
It's the lifestyle store par excellence and Parisians' favourite place to shop. You'll love its friendly, relaxed atmosphere, its home section, its emphasis on brands with a French Touch, and its legendary, inspiring DIY section. And for the gentlemen, there's BHV Marais Homme: four floors all dedicated to men's fashion, from street wear to designer collections, tailor suits and accessories.
Fancy a sale that favours French design? Check out our list of the top French-made items.
L'Appartement Français
You are going to love hitting the sales in this massive shop in the heart of the Marais, designed like an apartment where absolutely everything is for sale and where Made in France is the watchword.
C'est extra
Absolutely quirky and politically incorrect, this shop in Montmartre is a great place to dig up the best Parisian crafts and creations. The Sophie Cano jewellery bags and the Kebab overalls are waiting for you!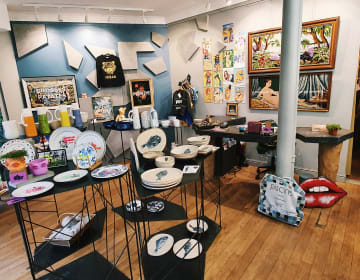 Front de mode
With its French, organic and responsible clothing and accessories, this concept store created by designer Sakina M'Sa has it all! Will you fall for the Earth yellow, white and pink jumper, with its 100% GOTS certified organic cotton?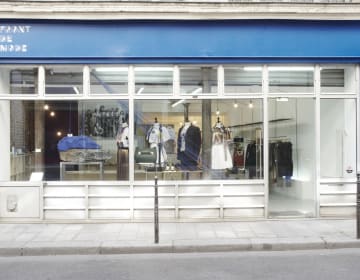 Inès de la Fressange
The most Parisian of muses has opened up her dressing room in the heart of Saint-Germain des Prés. And her summer 2021 collection is inspired by her love of Provence and the South of France. It's time to perfect your classy, casual look.
Empreintes
Tableware, decorations, design, lifestyle, jewellery, furniture, lighting, cabinets full of curiosities and exceptional pieces… Located in Marais, Empreintes is a concept store entirely dedicated to arts and crafts.
La Fabricature
Nestled in the Saint-Louis district, this concept store showcases French-made products a stone's throw from the Château de Versailles. Whether you're looking for fashion, jewellery, accessories, knick-knacks or furniture, it's time to give in to French craftsmanship with more than thirty French brands.
Looking for even more deals? With all the special events, clearance sales and promotions this summer, all the outlets are slashing prices in the Paris Region.
You might also like…