The best ice cream shops in Paris Region
Inspiration

The best ice cream shops in Paris Region
When the hot weather comes, there's no resisting good ice cream! The sweet flavours of vanilla, hazelnut, raspberry, wild strawberry and lemon will cool your palate throughout summer 2021.
Whether artisanal or gastronomic, in a cone or a cup, these iced delights will help you beat the summer heat. To enjoy at home, in the street, on the banks of the Seine, in the park or on a terrace, ice cream and sorbet will make you feel like you're away on holiday. From the popular Berthillon to the wacky Glazed, from vegan Tropicale to farm-fresh 3 Givrées, discover the best ice cream shops in Paris Region. There's something for everyone!
« La Manufacture de glace » by Alain Ducasse, the latest addition
The great starred chef has launched into the making of gourmet and flavoured ice cream to refresh you all summer long. After his famous chocolate factory, Alain Ducasse is now tackling his passion for sorbets and creamy ice creams with success as usual. Enjoy these unusual flavours with delight during a nice break!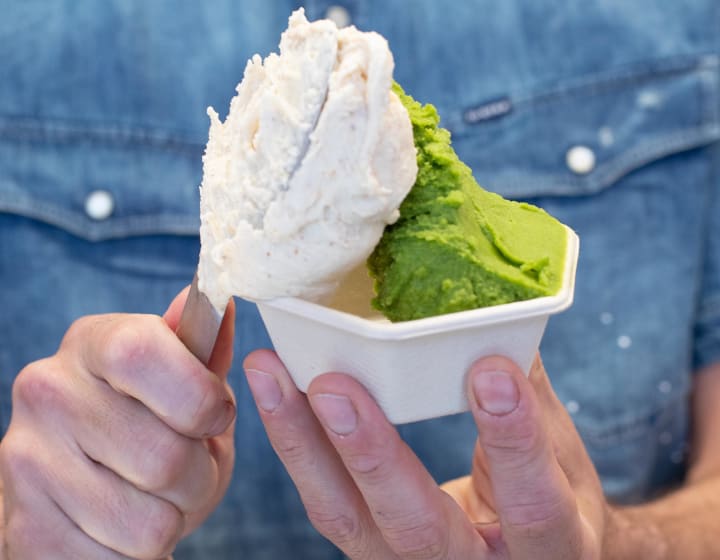 La Glacerie de Paris, the most geometric
There is no better person than a Meilleur Ouvrier de France glacier to explore the flavours and textures of frozen entremets and artisanal ice creams that change flavour with the seasons. David Wesmaël and his team compete in creativity with their cube-shaped ice creams displayed in the window of the Parisian shop in the heart of the Marais.
Maison Berthillon: the legend
In the heart of Paris, on the Ile de la Cité, the legendary Berthillon is home to many flavours of ice cream and sorbet. With sweet treats ranging from wild strawberry to mango to tiramisu, Berthillon's natural ingredients and subtle blends will delight all gourmets in Paris and beyond for a delicious and refreshing break.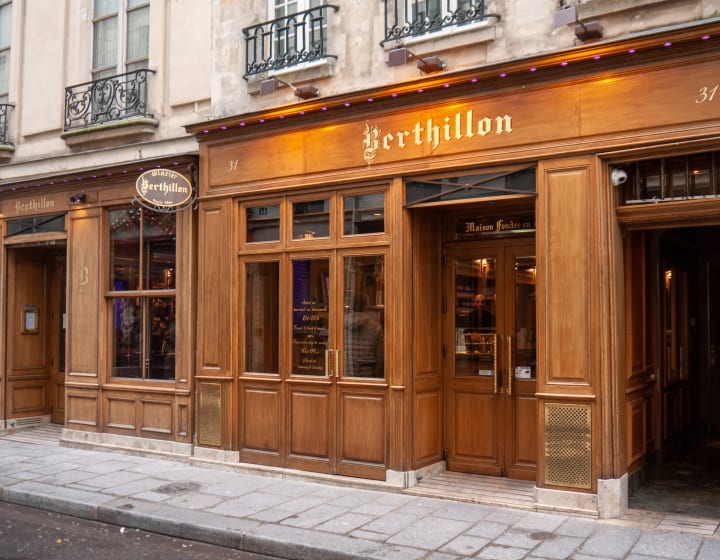 Une Glace à Paris: Meilleur Ouvrier de France
A love for ice cream is obviously shared by the two owners of Une Glace à Paris, Emmanuel Ryon and Olivier Ménard Vanilla, hazelnut and chocolate are among their classic iced creations. Flavours vary by season to satisfy your taste for a cool treat throughout the year.
Glazed: the most original
For dazzling taste buds, Glazed will awaken your senses and imagination with one-of-a-kind flavours and great names to go with them. Porn Cop (popcorn and caramel), Dark Side (dark chocolate and maple syrup), Smoke on the Water (vanilla bean and hemp seeds), the list goes on. The former foodtruck fiends known for trendy nights out and music festivals have landed in the Pigalle neighbourhood thanks to their growing reputation. Don't miss out on this treat!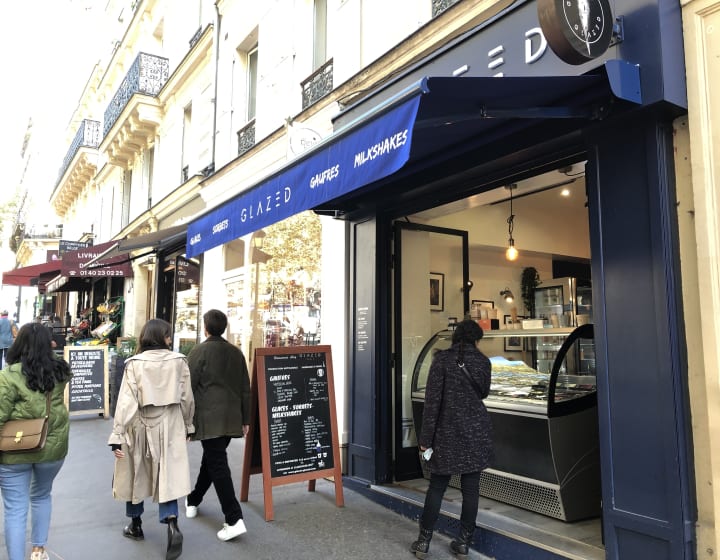 Il Gelato del Marchese: Italian gelato
In the heart of chic Saint-Germain-des-Prés, Il Gelato del Marchese will transport you to sunny Italian climes. Artisan excellence and real-deal Italian gelato expertise will thrill all fans of ice cream. No additives, artificial colours or flavourings, or preservatives: choose 100% natural and it's (almost) guilt-free!
La Tropicale: vegan ice cream
Ideal for vegans and fans of all things organic, with flavours varying by season, including matcha green tea or orange blossom. Subtle and inventive blends characterise this institution, which has been making artisanal ice cream since 1976. An exotic journey that will leave you with fruity memories!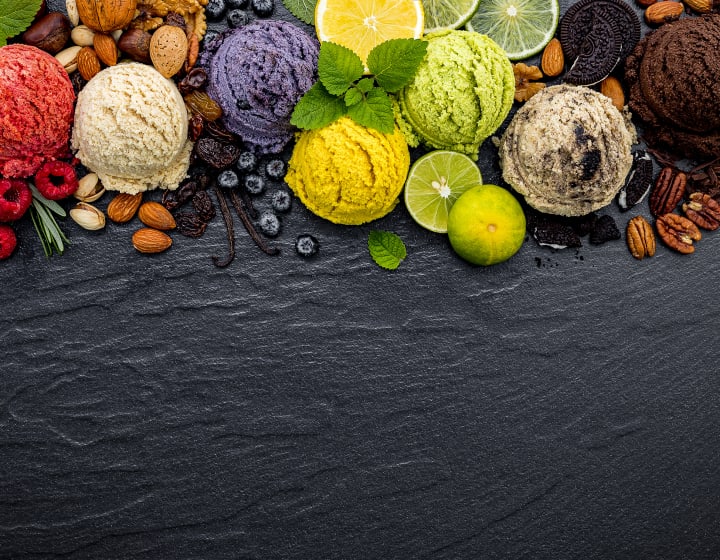 Mille et Une Glaces: the most authentic
In the charming village of Moret-sur-Loing, close to the forest of Fontainebleau, succumb to the pleasures of Mille et Une Glaces and indulge your sweet tooth. Lactose-free sorbet and egg-free ice cream, for natural ice cream gastronomy. In a cone or cup, flavours include pistachio, rose, rhubarb, blackcurrant and more.
La Fabbrica de Luca: the classic
A real Italian gelato shop in the heart of Saint-Germain-en-Laye, to cool down your taste buds after a visit to the National Archaeological Museum. Sit on a terrace along the cobbled streets of the town with family or friends and enjoy your favourite flavour.
Au-Dessus, Sur l'Etagère du Haut: the fruitiest
Nathalie makes the region's most amazing fruit sorbets in her atelier in the southern part of Paris Region. Savoir-faire and authentic taste to delight young and old alike. Fruit flavours that will make you feel like a kid again!
Alain Bernard Glaces: the most traditional
Ice cream king for 40 years! Smooth, traditionally made ice cream in many flavours make Alain Bernard the ice cream king in Enghien-les-Bains. On hot summer days, nothing beats eating ice cream while sitting at the lake watching the boats. Like you're on holiday!
Les 3 Givrées: the most farm-fresh
Three couples make ice cream and sorbet using local farm-fresh products from Seine et Marne. The little vintage van of the 3 Givrées is the symbol of this farm-fresh artisanal ice cream from Ourcq. On sale directly at the farm or in many shops in Paris Region, discover the incomparable taste of these extraordinary ice creams.
More gastronomy in Paris Region
Copyright image: Mille & Une Glace