A day of street art at the heart of Paris
Inspiration

A day of street art at the heart of Paris
Passages decorated with immersive frescoes, graffiti on the iron curtains of department stores or eccentric artists' studios in the middle of Rue de Rivoli…, Art is also urban in Paris Region. Stroll through a huge open-air museum and re-discover the heart of Paris from a whole new angle!
Start your stroll by immersing yourself in street culture at the Galerie Artkanoid in the Haut Marais neighbourhood. This gallery is an iconic place for discovering the latest trends in the street art market. Feast your eyes on super-colourful works by Kongo, orientally inspired creations by Fansack, and abstract pieces by Disco.
Then, treat yourself to something to eat and drink at the Marché des Enfants Rouges, Paris's oldest market. A listed historic monument, it is guaranteed to take you on a mouthwatering culinary journey with its myriad delis conjuring up multicultural cuisine using fresh ingredients. Take a seat on one of its terraces to savour delicacies from France and beyond and enjoy the friendly, welcoming atmosphere.
After this festival of flavours, head for the Passage des Gravilliers, where you will find a masterfully outlandish work by Unsolub that leaves no one indifferent.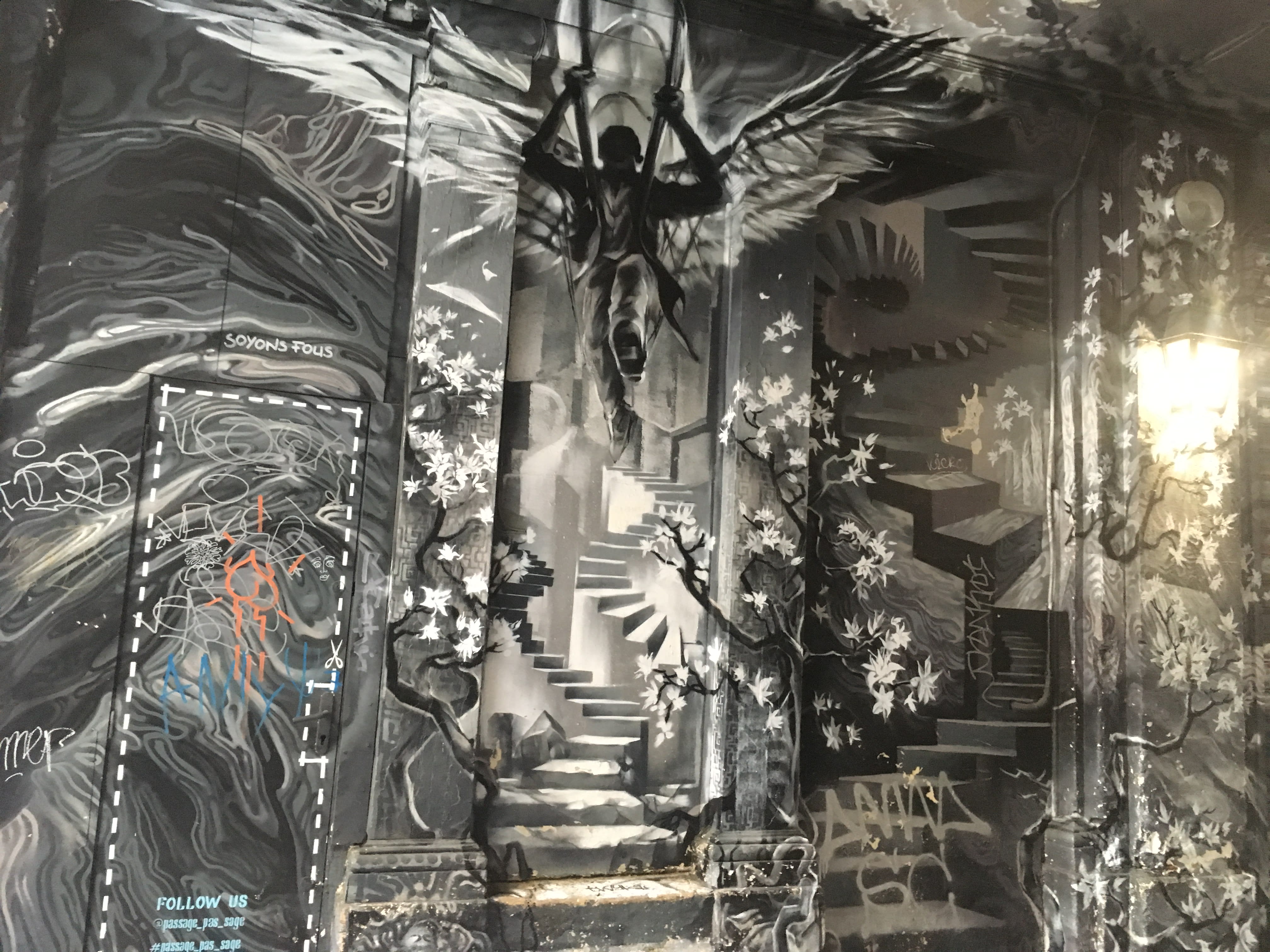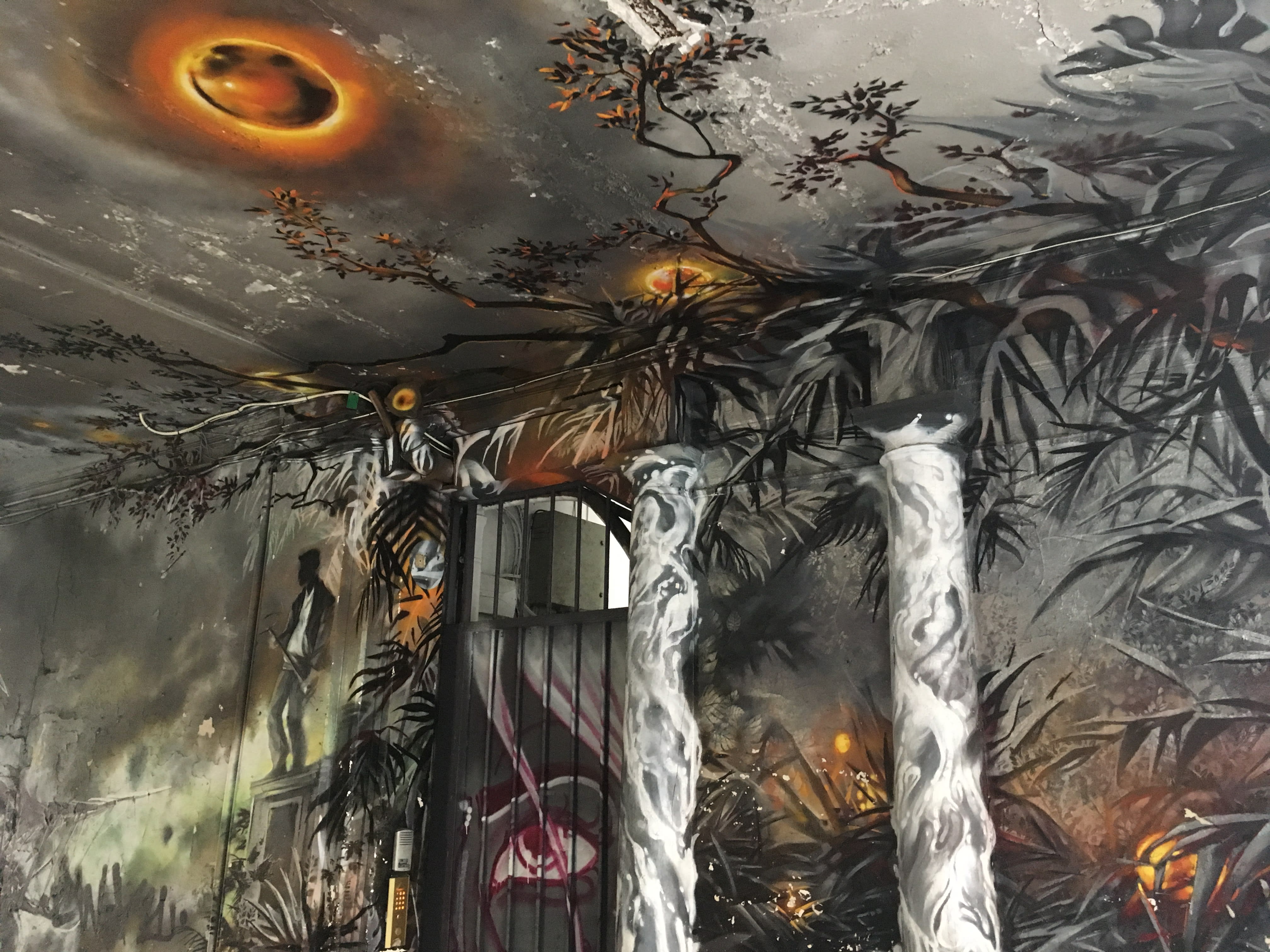 Next, take a stroll through the neighbourhood's narrow streets, from Rue des Quatre-Fils to Rue des Blancs Manteaux, and discover the countless examples of street art nestling in their nooks and crannies. Along the way, you are sure to encounter the face mouldings of Gregos, the multicoloured octopuses of GZUP and the highly critical little men of Kai.
Stop off at La Perle, a favourite haunt for hipsters, for a coffee or a drink on the terrace, which is always bustling, night and day.
Waiting for you two streets away is the Impasse des Arbalétriers, a playground for Parisian practitioners of street art and graffiti, where the exhibits are constantly evolving. And that's not all! Many more gems are to be found at the bottom of the BHV department store, where Rue du Temple meets Rue de la Verrerie. The metal shutters on the BHV Homme store are home to a work by M.Chat, in which his famous yellow cat strides across the rooftops of Paris. Opposite, Mosko's feline creations share the honours with Jérôme Mesnager's "white man".
Street art and urban cultures near the Centre Pompidou
Next stop is Place Igor Stravinsky to admire one of the largest pieces of stencil graffiti ever created. The character calling for silence in Jef Aérosol's vast work not far from the unmissable Pompidou Centre is not, as one might think, Dalí, but the artist himself. Neighboring the fresco, Obey has just achieve his work "The Future is Unwritten" to make this square a mecca for Parisian street art". From there, head to the extraordinary fountain designed by Jean Tinguely and Niki de Saint Phalle, then make a quick stop at Citadium, a must-visit concept-store for anyone who swears by urban culture.
Artists studios and street art culture in the Rivol district
To continue the spectacle, make your way to 59 Rivoli, an artists' squat reminiscent of Berlin's alternative culture scene. Explore the six floors of this veritable cabinet of curiosities and discover the extraordinary worlds of the artists' studios. On Saturdays and Sundays from September to June, you can even enjoy live concerts at 6 p.m.! And for more music, check out what's on offer at La Place. Under the canopy of Les Halles shopping centre, this urban culture hub puts all things hip hop centre-stage. With rap concerts, street art talks, dance battles and beatbox masterclasses, there is something for everyone!
This is a neighbourhood steeped in urban culture. To (re)discover all it has to offer, join the Fresh Street Art Tour Paris and get to know the hidden gems that make street art the rich tableau that it is. There's even a little surprise at the end!
Other places to see street art in Paris Region
You might also like...
Copyright image: Hélène Tonnelier CRT_IDF