Top perfumeries in Paris Region
Inspiration

Top perfumeries in Paris Region
The use of perfume may have begun in antiquity, but it became a true art of living in France, during the Renaissance. In the twentieth century, it became an essential part of our beauty routine and a classic "Made in France" product. Chanel No. 5, Guerlain's Shalimar and Nina Ricci's Air du Temps are all creations that still symbolise luxury and pleasure à la française. In addition to the major maisons, perfume artisans, scent creators and concept stores that enhance the fragrances are omnipresent in the city of light and constantly renew the field. Be it rare, refined or luxurious…Follow our guide and discover the fragrance that sticks to your skin!
Discover our selection of the most desirable perfumeries in Paris Region
Maison Goutal, the storyteller
Eau d'Hadrien, Petite Chérie, Un Matin d'Orage - Annick Goutal's perfumes are reminiscent of famous novels and can be perceived as an invitation to take a journey. In the Maison de la rue de Bellechasse, find a selection of gifts and iconic perfumes. The universe of Annick Goutal is also available online.
The ultra-trendy Dover Street Market Paris
Experience the most innovative and trendy shopping experience at Dover Street Market Paris, the ultimate concept store. Orchestrated by Rei Kawakubo, the iconic creator of Comme des Garçons, this immaculate shop in the Marais houses the most exclusive perfumes from all over the world, starting with the 60 fragrances created under Rei's own brand, on two floors. Discover their latest creation, Odeur du Théâtre du Châtelet, typically Parisian.
Nose, the apothecary
A curator of perfumes and beauty products, Nose is the perfect place to discover new fragrances. In this Montorgueil concept store specialised in niche fragrances, discover more than 50 brands of perfume creators, from the most confidential to the most familiar ones. And as a bonus, you are even welcome to benefit from an olfactory diagnosis to help you in your choice. You can even benefit from a olfactory diagnosis to guide you in your choice! You can also select your perfume on the online shop.
Le Labo, the brand
Looking for an exceptional perfume? Head to Le Labo, a jealously-guarded address that is only shared among insiders. In this store decorated like a New York loft, you will find iconic perfumes with mysterious names, such as Santal 33, Thé Noir 29 or Bergamote 22, as well as delicately-scented candles. The slow perfume label is perfect for lovers of sophisticated fragrances.
NICOLAÏ, the perfume creator
Enter the universe of the NICOLAÏ maison to discover a family saga and a history 100% made in France. Let yourself be seduced by the subtle alliance of refinement and elegance, the fragrances with the oud or intense notes and the scented candles, cast by hand. And let yourself be tempted by Kiss Me Intense, a floral eau de parfum combining green ylang-ylang and orange blossom or Violette In Love, a modern version of the delicate undergrowth flower that heralds Spring. You can also do your shopping on Nicolaï's e-shop.
L'Artisan Parfumeur, niche fragrances
Between nobility and modernity, the perfumes of l'Artisan Parfumeur are a sure value for a precious and singular fragance.. Find the iconic Mûre and Musk or Premier Figuier in their signature dark smoked glass bottles in the Saint-Germain des Prés boutique, which looks like a cabinet of curiosity. You can also buy online.
Frédéric Malle, the editor
Whether it's a house classic or a more confidential Masterpiece, you're sure to find at Frédéric Malle the perfume which is intended for you.. Dans tes bras, by Maurice Roucel, a fragrance with a hint of violet, warmed up by sandalwood, musk and heliotrope or Lipstick Rose, by Ralf Schwieger, a concentrate of intimacy and eternal seduction will will enchant you. Frédéric Malle has a online boutique.
Liquides, perfume bar
Liquides is the perfume bar of the Haut-Marais that reinvents classic perfumery. Quietly installed at the counter, in a hushed and intimate atmosphere, let yourself be guided by the barman who will advise you on the subtle and original fragrance that will make you capsize. Liquides also has a perfume bar at the Bon Marché Rive Gauche and an online boutique.
Oriza L. Legrand, a page of History
To enter the shop Oriza L. Legrand, in the Opera district, is to treat yourself to a plunge into History. Founded in 1720 by Fargeon Aîné, this Perfume House was the official supplier of the greatest, from Louis XIV to Napoleon III. In a decor inspired by the Belle Epoque and the Roaring Twenties, let yourself be seduced by the rococo bottles and the fragrances with evocative names: For a special gift, Marions-Nous or Relique d'Amour seem to be the best choice.. You can also choose your perfume on the online shop.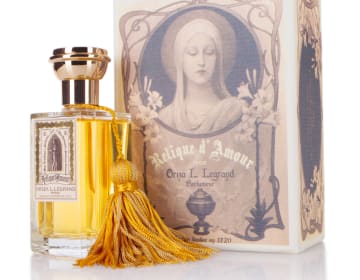 You might also like
Copyright image: Victor Floril