Trendy shopping in haut- and bas-Marais
Inspiration

Trendy shopping in haut- and bas-Marais
Situated between the Pompidou Centre, Hôtel de Sully, Place des Vosges and the church, Eglise Saint-Paul, Le Marais is, above all, a place that is steeped in history. Built on what was once marshland, the district welcomed thousands of Jews from Eastern Europe as early as the 13th century, the first generation of Chinese immigrants after the First World War, and the gay community in the early 1980s.
Today, people enjoy ambling along its small cobbled streets, lined with private townhouses, food shops and fashion stores. Follow our guide!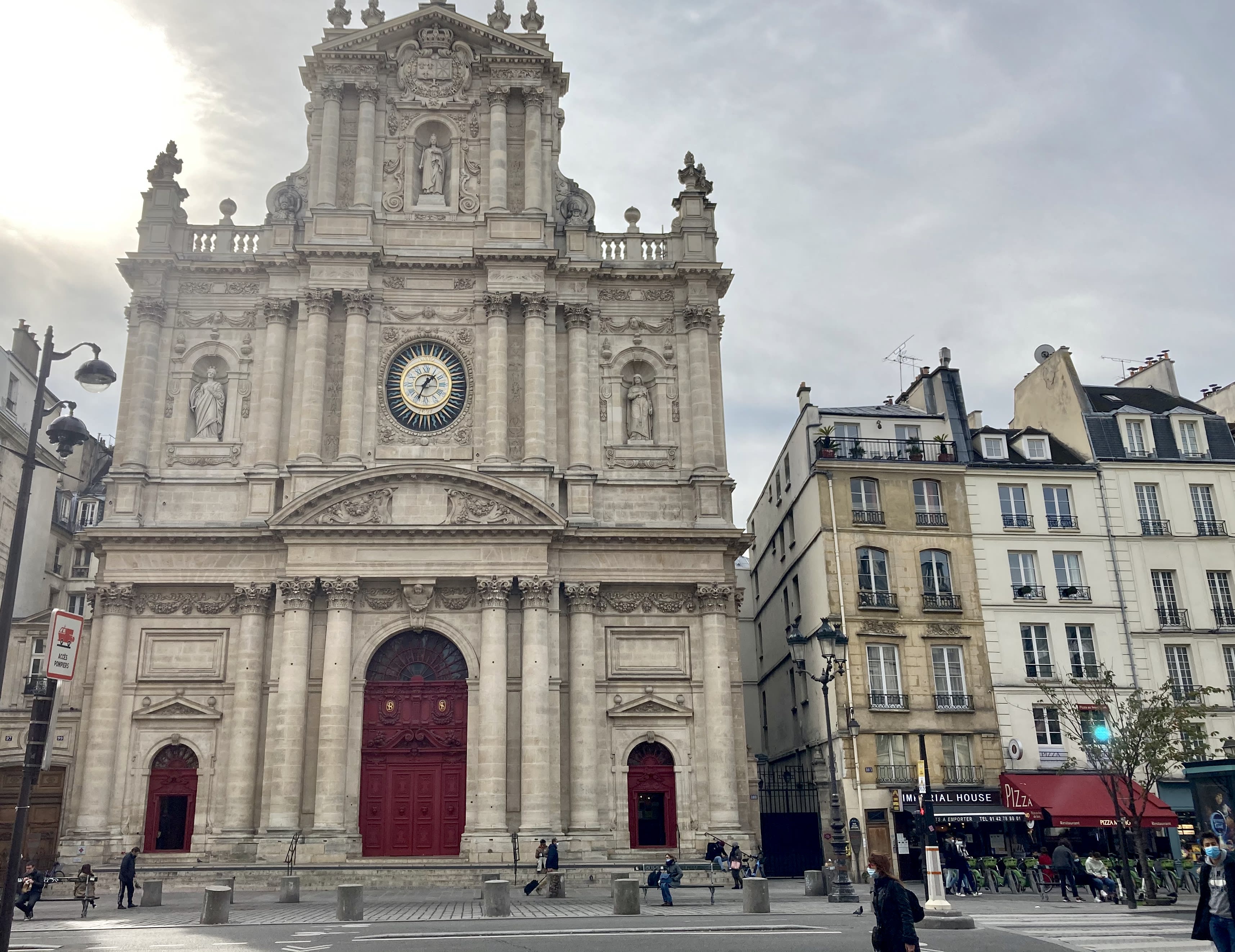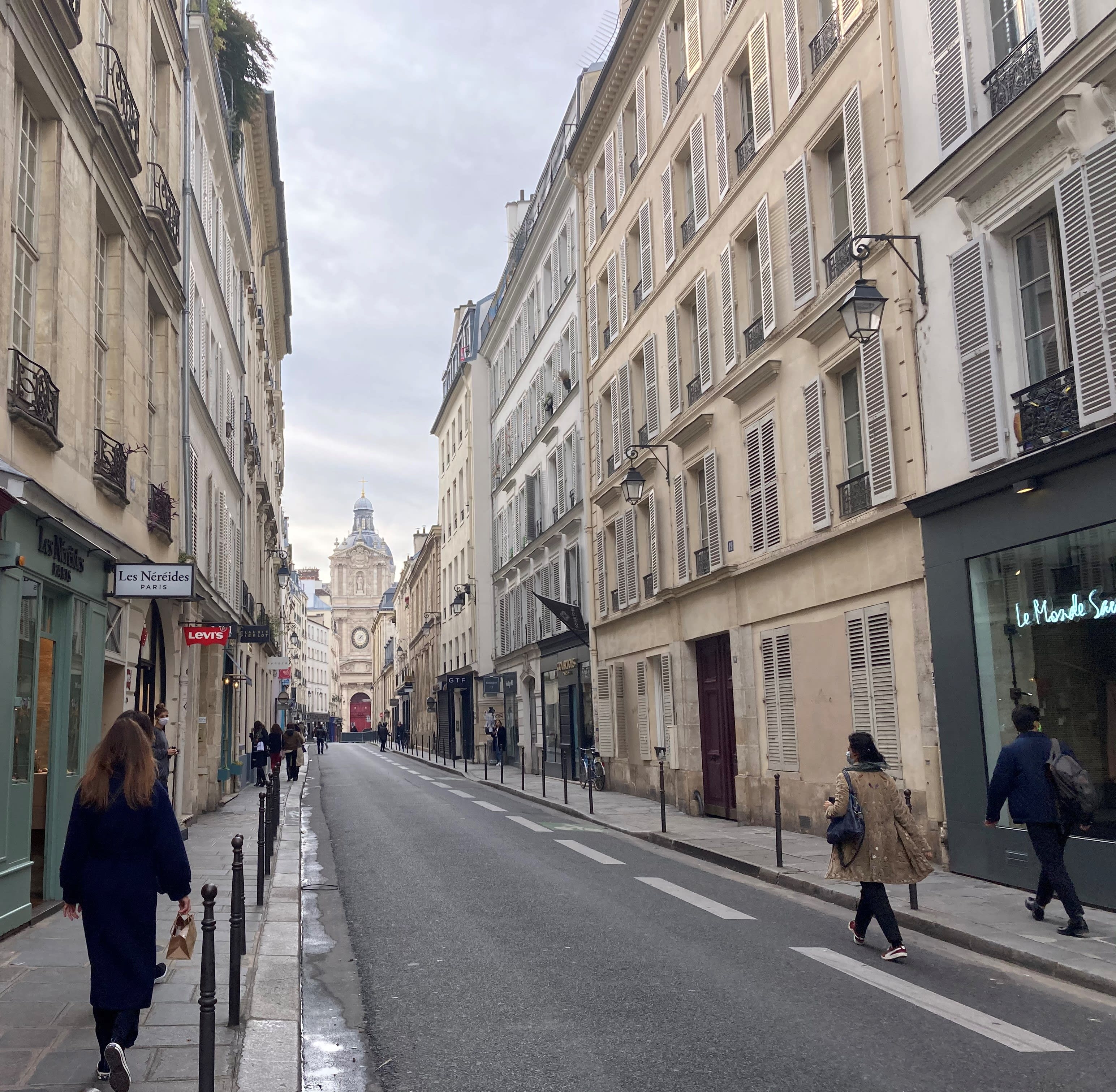 A shoppers' paradise
A stone's throw from Carreau du Temple, The Broken Arm is emblematic of the revival of the Haut-Marais district, with its photo and contemporary art galleries, trendy terraces and designer boutiques. This multi-brand boutique has the most eclectic and cutting-edge women's and men's fashion, from Jacquemus to Comme des Garçons, Lemaire, Isaac Reina and Stone Island. A real immersion into the world of fashion!
Slowly walk up rue de Bretagne, with its many food and fashion shops; take a gourmet break at one of the food stalls at Enfants Rouges market; then take avenue des Filles du Calvaire, a landmark for fashionistas from all over the world, with its famous Merci concept store, in particular.
Just next door, rue Froissart is home to Roseanna, a boutique which is one of the nuggets of the French touch. The two designers behind the brand, Roxane Thiery and Anne-Fleur Broudehoux, have successfully created a line that is both rock and ultra-desirable romantic. Boyfriend jeans with elegant pumps, light dresses and Perfecto leather jackets, this is the look for you!
Back to the town hall and the unmissable BHV Marais, the Parisian department store and temple for DIYers who are in the know.
Parallel to rue de Rivoli, rue des Archives is home to several vintage spots well known to those on the lookout for second-hand items.
Kilo shop stands out from the entrance to the shop: here everything or almost everything is sold by the kilo. Jeans, camouflage trousers, shirts, furs, scarves, bags, Japanese kimonos… you walk around this 500m2 shop, choose your items, weigh and pay! It is also the place to find the iconic 501 Levis that you will wear all year round!
What's on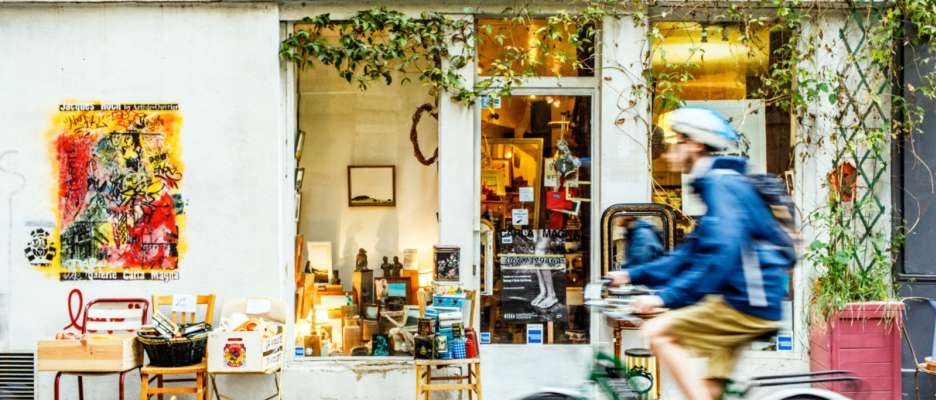 Man oh man
Opposite its flagship, BHV Marais L'Homme is an eldorado for elegant bobos. Behind the magnificent green wall, this menswear store is spread over four floors and 4,000 m². You will find more than 150 brands, from socks to suits, from streetwear to designer collections, and accessories to shoes. Afterwards, cross the street for a pilgrimage to the basement of the parent store and tour its mythical DIY department.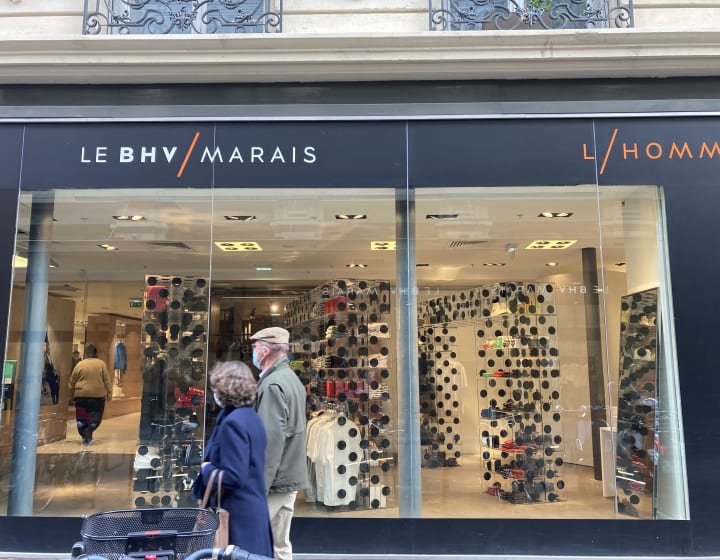 Our favorites
Children first
Created in 2001 in the wake of the Bonpoint brand by Thomas Cohen, Bonton is one of the first concept stores for children. Combining a hint of wisdom with an unconventional touch, this childrenswear store embraces fancy prints, shimmering colours and a resolutely chic bobo style. You will also find accessories, household linen, decorative items, toys, books… and even a sweets bar!
Accessories & Co.
Offering bohemian necklaces and charm bracelets, Gachon Pothier is the embodiment of bohemian chic. An aesthetic claimed by the two creators of the brand, Alexandrine and Florence, who are passionate about vintage and mixed textiles from all over the world. All the jewellery and items are made by hand and with love in the boutique's workshop on rue de Saintonge. In addition to rings and necklaces, they specialise in wrap bracelets oozing with colours and trinkets. Join the club!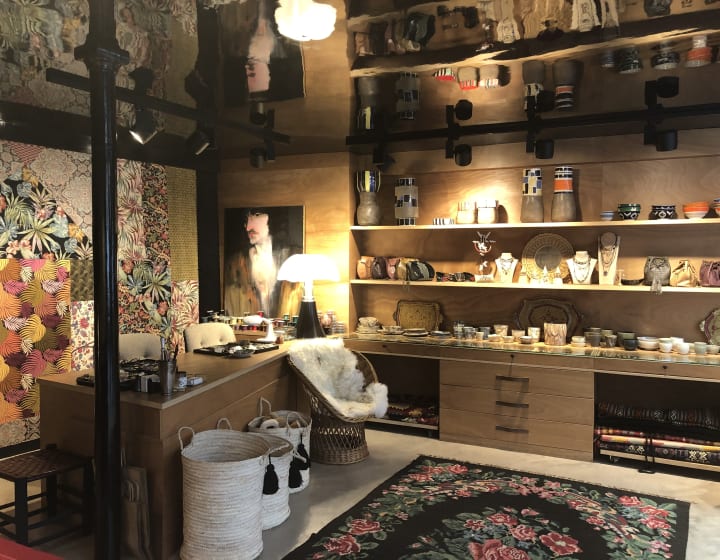 One last drink
A coffee shop, a bar and restaurant, a meeting place, a refuge, a hidden terrace… Griffon is the latest place where people love to get together in Le Marais. Nestled within the Crédit Municipal building, it is the new living and mixing space designed by Renaud Barillet and Fabrice Martinez, to whom we owe La Bellevilloise and Dock_B. It is ideal for a drink, curled up in cosy armchairs in winter or on the terrace away from the noise of the street on sunny days.
The shopping quartiers in Paris Region
You might also like
Copyright image: Helene Tonnelier CRT_IDF