Weekend around an artist's house: Alexandre Dumas and the meanders of the Seine
Inspiration

Weekend around an artist's house: Alexandre Dumas and the meanders of the Seine
Alexandre Dumas fell in love with Le Port Marly and the surrounding area, so much so that he built a house there. You too can fall under the spell of this area just a few miles from Paris: the beauty of its riverside landscapes, its historic and architectural heritage, and its vast green spaces.
The perfect setting for your next weekend!
We would like to inform our kind readers that a vehicle is required to follow this itinerary.
The castle of fame
Following the success of The Three Musketeers and The Count of Monte-Cristo, Alexandre Dumas was finally able to afford the house of his dreams. On the hillside in Le Port-Marly, where your walk begins, he had the Château de Monte-Cristo built, surrounded by a landscaped garden. A Renaissance-style architectural folly just as extravagant as its illustrious owner! The adjacent Château d'If, a Neo-Gothic château surrounded by water, where the prolific novelist liked to shut himself away to work, is an architectural gem. Have fun finding the titles of his works engraved in the stone, along with representations of his greatest heroes, including the famous Edmond Dantès, the Count of Monte-Cristo himself!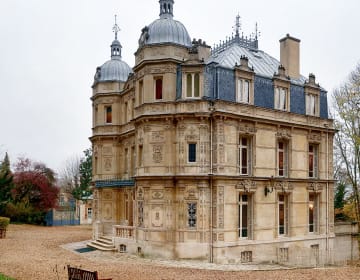 Marly-le-Roi, a charming village steeped in French history
Alexandre Dumas' swashbuckling sagas were inspired by stories from the royal court. Just a few kilometres south-west of his property, the charming village of Marly-le-Roi could have provided him with a more-than-suitable backdrop. It was here, on the edge of vast hunting forests, that Louis XIV would come in search of peace and quiet, far from the pomp and intrigue of the Château de Versailles. Take the time to stroll through the delightful grounds. While today only a few vestiges of the château built by Jules Hardouin-Mansart remain, including the famous Marly Horses, the Musée du Domaine royal de Marly brings this grand yet intimate building to life. During your visit, you can experience the solar eclipse of 3 May 1715 in the company of the king himself, thanks to virtual reality. It couldn't be simpler!
After that, take a stroll around the pedestrianised streets of Marly's old town and admire the town hall, formerly the king's dog kennels, surrounded by landscaped gardens; the home of playwright Victorien Sardou and its sphinx-lined path; Saint-Vigor church, a gift to residents from Louis XIV; and the Grande Rue, the village's main street with its colourful façades and plenty of restaurants for a well-earned lunch break.
The restaurant Le Gramophone might catch your attention with its terrace, the ideal spot when the sun is out!
The Seine of the Impressionists
Pissarro, Manet, Monet, Renoir…. The greatest Impressionist painters fell in love with the landscapes and light of the Seine and liked to set up their easels along its banks. You too can fall under the spell of the Seine and its twists and turns, and discover the riverside towns that these artists brought to life, from Chatou to Bougival, via Croissy-sur-Seine.
Among the four "Chemin des Impressionistes" walking routes, you can follow in Monet's footsteps: head to Bougival, where Berthe Morisot lived, and as soon as you arrive, abandon your car and set off on an hour-and-a-half's walk studded with reproductions of works that the most famous Impressionist of them all painted here. You will also admire landscapes immortalised by Renoir and Berthe Morisot, from the Pont de Bougival to the Île des impressionnistes in Chatou, stop off at the Musée de la Grenouillère, and stroll down the riverside at Croissy, nicknamed the "Riviera of the Seine" with its incredible houses: a Swiss chalet, an Arabian-Nights-style palace, a Palladian villa…
On arrival, soak up the open-air-dance-hall vibe and relive the gold era of boating and Impressionism with a visit to the Musée Fournaise.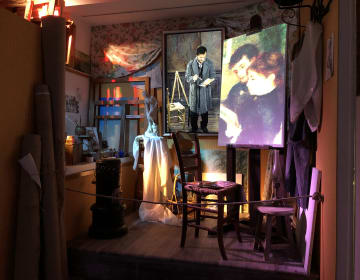 Dinner in the Impressionist era
It was in Chatou that Renoir painted the famous Luncheon of the Boating Party at the Maison Fournaise. Settle in for dinner on the wrought-iron balcony immortalised by the painter, and enjoy a moment of bliss with the Seine at your feet.
1 night, 2 atmospheres
Want to prolong your experience in Impressionist Country? Les Terres Blanches is a boutique hotel entirely renovated in a New-York-loft style in a quiet area of Chatou.
Hôtel Les Terres Blanches 28 rue du Tour du Bois 78400 Chatou
Not ready for bed yet? Then head back towards Saint-Germain, and just a 6km drive away, you can have one last beer at a pub or savour the jazzy atmosphere of Le Cazaudehore, on the edge of the forest.
With its four spacious rooms, heated indoor pool, jacuzzi, and stunning garden, the Talisman Bed & Breakfast has everything you could ask for a peaceful and romantic stay.
Talisman Bed & Breakfast 11 bis rue Charles Rhône 78100 Saint-Germain-en-Laye
Saint-Germain-en-Laye: a town fit for a king!
Now you have had time to rest, it's time to head off and explore Saint-Germain-en-Laye. While the château, now home to the Musée d'Archéologie nationale, is very much the centrepiece, the town is also known for its pedestrianised streets – ideal for a spot of shopping – the art and craft stores in its Saint-Christophe neighbourhood, and its culinary specialities. Indulge yourself by trying a Saint-Germain, a very light cake made with almond cream, or a Debussy, a sweet treat composed of a hazelnut sponge, praline mousse, rum-soaked raisins and chocolate icing. It was created in 1925 by the Pâtisserie Grandin in homage to the famous composer, who was born in Saint-Germain and whose house can also be visited.
A not-so-guilty pleasure
Keep a little room for your lunch, however. Restaurant and tearoom La Fabrique de Louise offers home-made sweet and savoury delicacies to eat in or take away. All the ingredients are fresh, organic, seasonal, and served in recyclable or biodegradable containers.
Explore the countryside around Saint-Germain-en-Laye
In the afternoon, it's time for a breath of fresh air!
The Domaine de Saint-Germain-en-Laye, with its Grande Terrasse designed by André Le Nôtre, its unimpeded view over Paris, its 40 hectares of gardens and its pathways lined with centuries-old lime trees, has become a prized walking spot in all seasons. While you are there, step inside the Pavillon Henri IV, built on the site of the former royal palace. The Sun King, Louis XIV, was born in one of its rooms, now a listed historical monument. Alexandre Dumas, a lover of fine fare, would lunch there.
Step inside the gates of the estate and explore the Forest of Saint-Germain, a former hunting ground for kings and emperors. A 7km walking loop accessible to all will give you a close-up view of the most remarkable sights.
Explore the forest from a different angle, seated atop a pony! Epona Club Nature offers a range of options for you to discover the beautiful natural surrounds alone and at your own pace. And if you prefer to be in total control of your means of transport, Cyclou 78 has the solution for you, with mountain bikes and Fatbikes designed for roaming the countryside, and city bikes for exploring the streets.
Download the itineraries in PDF format
More famous artists' houses in Paris Region