Top 10 family hikes in Paris Region
Inspiration

Top 10 family hikes in Paris Region
It's beautiful out and you're wondering where to take the kids for some fresh air? Here's a list of 10 outdoor hikes to help you decide where to go. Whether you're looking for an easy walk to do with young children or proper hikes to do with teenagers, you're sure to find what you're looking for among the many walking itineraries in Paris Region, close to the city or a bit farther afield depending on your means of transportation, by car or by RER. Get away from it all with your family!
1 - Medieval stroll
Enjoy a getaway between history and nature in the medieval city of Provins, classified as a UNESCO World Heritage Site (suitable for older children). This walking tour through the narrow alleyways of the old town will take you back in time to the era of knights in just over three hours. Stroll along its famous ramparts and explore its many historical sites and the surrounding countryside. The walled city is revealed in all its glory as it might have appeared to travellers in the Middle Ages.
2 - On the trail of history
For this hike, you'll be heading south of Paris. In the heart of the French Gâtinais Regional Nature Park, discover a leisurely trail that'll take you back in time. Along this route, seven educational panels invite families to discover the landscape through the major periods of history, from the Palaeolithic era to antiquity and up to the present day. Parents can enjoy an escape among greenery while the kids can learn by seeking out the different explanatory panels, illustrations and sculptures. You can also listen to audio commentary accessible via QR code on a smartphone.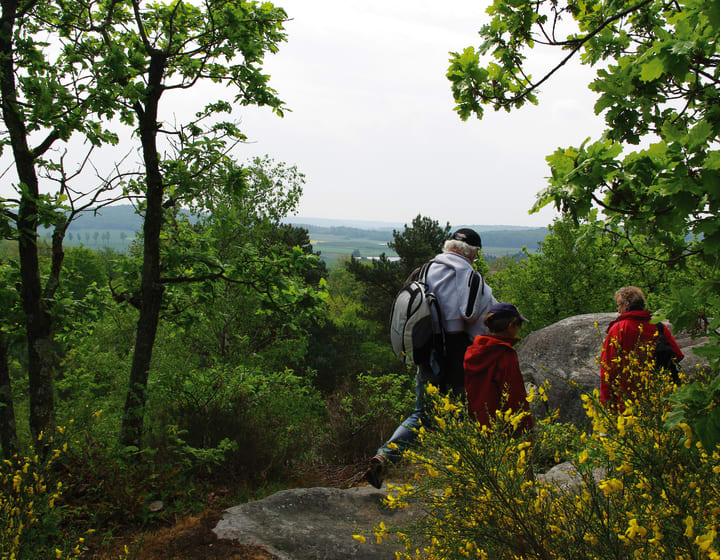 3 - A wilderness outing perfect for families
In the Haute Vallée de Chevreuse Regional Nature Park, this short 1 km loop is perfect for families with young children. Fully equipped (stroller/pushchair accessible) and dotted with explanatory panels, this protected natural area consists of a marsh around which you can admire rich and diverse flora and fauna. Great outdoors exposure for the little ones, and a relaxing dose of greenery for your Sunday outings!
4 - A hike between art and nature
The Milly-la-Forêt and Le Coquibus route, with its 13 km of trails and elevation changes, is geared towards families looking for an escape with their teenagers. Your itinerary starts at Milly-la-Forêt, a charming country village and residence of famous author-artiste Jean Cocteau whose house is close to the circuit. On the way, you'll stumble upon the Cyclops by Jean Tinguely, a surprising giant metal-and-concrete sculpture, before continuing your hike amidst the heather landscape.
5 -In the footsteps of the Romans
Not just one but seven different routes will take you through the Regional Natural Park of the Vexin français, following in the footsteps of the Gallo-Romans. A leftover from the Roman occupation of the Paris region in ancient times, the Julius Caesar trail nowadays offers delightful walks in an unspoilt natural setting. Discover a rich historical heritage of archaeological remains, castles, museums and ancient farms amidst your exploration.
6 - A bucolic escape
This easy walk takes you through the countryside to discover charming villages and beautiful rural landscapes! While following a 7 km loop, let yourself be carried away by the beauty of the valley of the Renarde, a small river that cuts through Essonne. Don't forget to stop at the Segrez Arboretum and get some shade among the impressive trees in this English-style garden.
7 - A great hike for teens
Those who like to hike with their older children will surely want to (re)discover La Roche-Guyon, its castle, vegetable garden and stunning sweeping views of the Seine. This 20 km route offers you a day in the fresh air and nature, while spotting lots of flora and fauna from the peregrine falcon to the praying mantis. And if the itinerary is too long, there's a shorter alternate route that's no less thrilling.
8 - Amidst a cathedral of trees
For a family forest outing just a few kilometres from Paris, opt for this route in the heart of the Notre-Dame Forest, a large wooded area that was once the property of the cathedral of the same name. Nowadays, its maintained paths, far from the city's hustle and bustle, are ideal for Sunday excursions on foot or by bike. This 13 km hike will take you near the Grobois Castle and the charming alleyways of Marolles-en-Brie. Plus, you can get here by RER A.
9 - Architecture for parents, fun for kids
This peaceful stroll will satisfy parents and kids alike. The Île Saint-Germain Park is a welcome haven of nature located on the Seine River just outside Paris. This 8 km hike (which can easily be shortened) offers kids big lawns and playgrounds to play in while adults can relax and admire the park's architectural features including the Tour aux Figures by Jean Dubuffet. In good weather, why not have picnic? Or grab lunch at L'Île restaurant, whose cosy country-style setting will make you forget the Paris frenzy as you dine in the midst of nature.
10 - A breath of fresh air amid the urban hubbub
Finally, head to the Georges-Valbon Park just northeast of Paris. The 12.5 km of marked paths allow you to admire the beautiful setting of this Natura 2000 classified site. Along the way, you'll pass a rose garden, lake, waterfalls, ponds and marshes inhabited by many species of birds. Children can play in the playgrounds which include jungle gyms, slides and even a big wooden castle.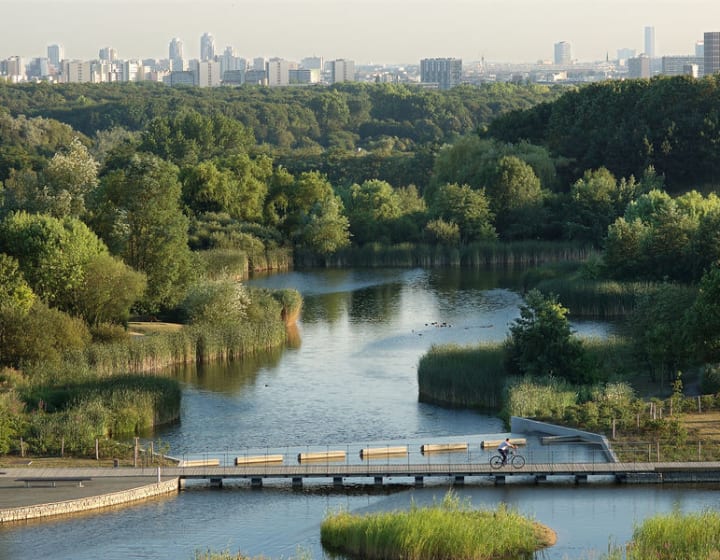 So, where are you headed for a hike next weekend?
You might also like
Copyright image: Y.Piriou / AEV