Where to buy the best Christmas chocolates in Paris Region?
Inspiration

The best chocolates to place under the Christmas tree
Christmas and the New Year are key moments, and what better way to treat yourself and your loved ones than by leaving chocolatey treats, truffles and pralines.
Rediscover the best 2022 creations from the great chocolate makers of the Paris Region in anticipation of the end-of-year celebrations in 2023.
Alain Ducasse, the taste of excellence
In 2021, Alain Ducasse's Manufacture took you on a journey to the African savannah. Giraffes, monkeys and antelopes were hidden in the 24 boxes of the Advent calendar for a real taste journey! The traditional Christmas trees to build, in dark or milk chocolate and encrusted with mendiants, were also part of the game. Not to be missed!
Patrick Roger, the sculptor
Patrick Roger is a true artist who sculpts his chocolate into mineral and animal shapes. His gigantic, vibrantly-realistic constructions can be seen in his various shops. At the end of the year 2021, it has proposed to you amazing caramelized almond trees in the shape of a cube, small dark chocolate marmots and children's pebbles. A feast for both your eyes and your taste buds!
Cyril Lignac, the star
Cyril Lignac, chocolate-maker, takes you on a journey back to childhood. In this chocolate-filled world, discover during Christmas and throughout the year, the irresistible marshmallow bears with a praline heart stacked into a pyramid to create a monumental treat. So tasty!
Gilles Cresno, the must-see
Crowned with the Grand Prix du Chocolat of the City of Paris, Gilles Cresno is a passionate craftsman who transmits the values of excellence, taste and pleasure through his chocolates. The cream of Paris flocks to his shop in Rueil-Malmaison, to the west of the capital. However, if you prefer to stay home, delivery is possible with just a few clicks. From mid-November, he prepares the Advent calendar while you wait for Christmas Day and his boxes of candied chestnuts and a small chest of flavoured truffles that you will be able to place with delight at the foot of the tree! Looking forward to December 2022!
La Mère de Famille, mamma mia!
The chocolate craftsmen of Mère de Famille bend over backwards to offer you a range of exceptional chocolates every time! At the end of 2021, the designer Pénélope Bagieu has signed the Advent calendar for the house in faubourg Montmartre, to make your mouth water every day while waiting for Santa Claus. And that's without counting the boxes filled with various sweets to share all year long!
La Maison du Chocolat, the globe-trotter
Chocolates from La Maison du Chocolat are enjoyed around the world. From Tokyo to New York, people flock to taste the famous French brand's creations. During Christmas holidays 2021, Nicolas Cloiseau, chef chocolatier and Meilleur Ouvrier de France, has imagined a Christmas ornament Advent calendar, a limited edition artistic piece made up of 26 sweet surprises to make the wait a pleasure. What surprises will he come up with for the 2022 Christmas season?
Le Cacaotier, the traveller
In Enghien-les-Bains, to the north of Paris, Le Cacaotier ooffers you the creations of Hubert Masse, who blends unique flavours brought back from his travels. Take your time to choose (or not) between classic chocolate truffles and delicious boxes of assorted chocolates. And while we wait for the sweets for Christmas 2022, enjoy each day with gourmet pleasure. To buy in-store or online.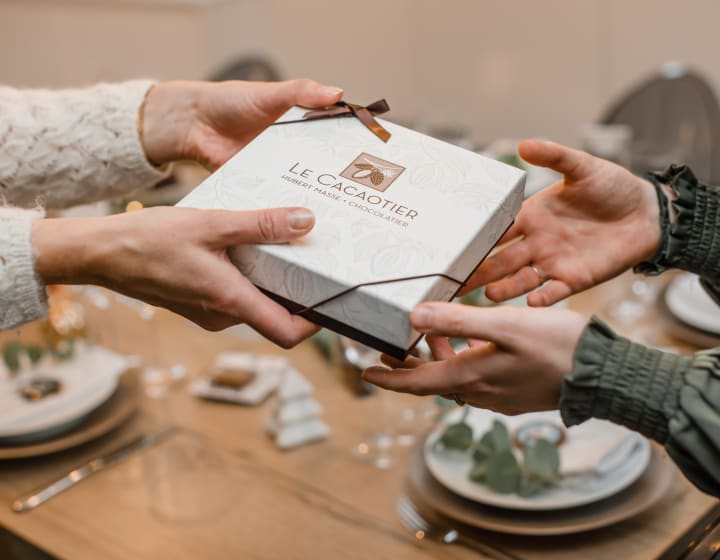 Jacques Genin, the genius
The supplier of luxury hotels Le Plaza and Le Crillon for 40 years finally opened his own shop. Jacques Genin, master chocolate "melter", makes haute-couture treats with his chocolates and parcels them into the most beautiful presentation boxes for the perfect gourmet gift. Step through the door of his atelier in Rue de Turenne and listen to the bustle of his brigade at the back, inhale the intensity of the fragrances, and savour the most creative of chocolates!
Jean-Paul Hévin, the Japanese
From his travels in the Land of the Rising Sun, Jean-Paul Hévin has brought home an impeccable standard to sublimate his chocolates and take on any creative challenge. In addition to boxes of mendiants, truffles and other grand cru chocolate, it produces a luxurious advent calendar every year. All the talent of the master chocolate maker in 24 original chocolate creations!
Patrice Chapon, the coffee roaster
Patrice Chapon is a perfectionist. After scrupulously selecting his cocoa, he first roasts the beans at his local factory, then offers us a glorious variety in his Paris shop. Every Christmas and New Year, Advent calendar, mendiants and tablets are putting on a show under the big top!
Le chocolat des Français, the designer
The cream of French chocolate combines design and gluttony! A traditional 100% French product so you can offer gourmet and personalized gifts. Surprise cracker, tablets, boxes and Christmas ornament to decorate the Christmas tree, Le chocolat des Français will seduce your taste buds and eyes and enchant your year-end celebrations.
Art et Chocolat, royalty
In Versailles, Art et Chocolat offers you their majestic creations. This artist-chocolatier cum sculptor has made Louis XIV's shoe his speciality, but many other works of art such as his Christmas creations await you. Like a sculpture for your table centrepieces, the barks, bowls with robins or chocolate greenhouses house a multitude of chocolatey delights.
Vous aimerez aussi
Copyright image: Hélène Tonnelier_ CRT/IDF