The best outdoor climbing spots in Paris Region
Rock climbing is one of the new sports for the Paris 2024 Olympic Games, and it'll make you want to take on the best sites in Paris Region. Climbing can be fun for all! With family or friends, climb atop a boulder, bridge or even a tree, with experienced and fully equipped professionals. We've selected the best spots and activities in exceptional settings. Climb to the top in Paris Region!
Fontainebleau forest climbing
If you are a beginner or just want to improve your climbing skills, there's nothing better than the magnificent forest of Fontainebleau. Just an hour from Paris, it's an opportunity for a fun and sporty session in pristine wilderness setting.
Globe Climber offers climbing sessions with experienced instructors who guarantee safe, high-quality sessions, whether you're looking for a whole or half day, a weekend, a full course or a beginner's intro.
The world-famous sandstone from the Fontainebleau forest – commonly called Bleau by rock climbers – is known for its exceptional grip. Fontainebleau's boulders will amaze you with their beauty and grandeur. Anyone age 7 or older may practice on these rocks, depending on the difficulty of the course. Whether you're an expert climber or just a newbie, you're sure to find your own path here!
Climbing spot at Etampes leisure island
The Ile de Loisirs d'Etampes, in the south of Paris Region, invites you from the age of 7 to climb to the top of a large climbing wall. Supervised by a qualified instructor, come and discover the diversity of the routes on offer as a group or as a family.
Besides climbing, tons of other activities beckon for a family day. Swimming, mini golf, canoeing, and more. There's something for everyone!
The Fauvettes Viaduct
At the bend in the forest paths between Bures-sur-Yvette and Gometz-le-Chatel, just an hour from Paris, discover the Fauvettes Viaduct, a former railway bridge on the old rail line linking Paris and Chartres. With its 12 arches and 11 pillars, this immense structure won't go unnoticed amidst the tranquillity of the wooded landscape.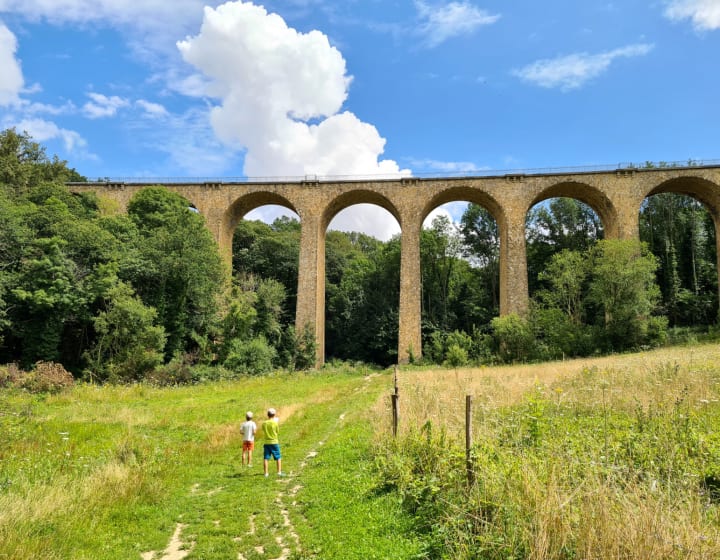 This fantastic climbing site – considered the highest cliff in Paris Region by professional climbers – offers a great reward upon arrival with a magnificent view of the Yvette valley!
The Essonne Department Speleology Society (Comité Départemental de Spéléologie de l'Essonne) also offers many activities here, so don't hesitate to rise to the challenge!
AccroCamp in the forest of Meudon
In the heart of the Meudon forest near Paris, the AccroCamp, in addition to offering different accrobranche universes, offers a fun climbing wall. Equipped with a harness, climb this wall in complete safety and feel the adrenaline of the climbers.
Extremely sensitive to the protection of the environment and the trees, the AccroCamp de Meudon is perfectly integrated into nature. A dive of pure sensation in the middle of the forest!
In this impressive natural setting, learn to climb with the help of instructors or practise on your own every Saturday and Sunday from 2 p.m. to 5 p.m.
Sherwood Parc tree climb
In the heart of Oise-Pays de France Regional Nature Park, just 30 minutes from Paris, Sherwood Parc awaits for a day of adventure! Rock climbing, tree climbing, ziplining, inflatable games, labyrinths, archery and more. Come challenge yourself and become Robin Hood for a day!
Discover the "Escalad'arbre", a tree equipped with climbing holds reaching up to 17 m. Climbers young and old can take pride in admiring the view once they've made it to the top. Dizzied by the thought of going back down? Not to worry – an automated device will take you back to earth. A truly unique experience!
You might also like
Copyright image: A.Rochau / Stock Adobe