The best pastries available to enjoy at home
We need to treat ourselves and there is no greater pleasure than a sweet treat! The bakeries and pastry shops in the Paris Region are being more inventive than ever, continuing to delight the taste buds of food lovers in-store, while respecting heath recommendations with click & collect and delivery options. Rum baba, lemon tart, opéras, éclairs and even the essential croissants and pains au chocolat… Discover our favourites and give in to temptation!
The bakeries and pastry shops in Paris Region
Gâteaux d'Emotions by Philippe Conticini
With the COVID crisis in full swing and winter on its way, who doesn't want something sweet and comforting? If that sounds like you, we have some wonderful news: Philippe Conticini's cakes are now available to click and collect, as well as for home delivery to Paris and the surrounding area. You can find the pastry chef's sublime spiced apple Babas, Etretats and Paris Brests in both his Parisian stores, as well as at Lafayette Gourmet. Lafayette Gourmet.
Potty about pastry
From Pierre Hermé and Cyril Lignac to Pierre Marcolini, Carl Marletti, Hugo & Victor and more, find some of the world's top pastry chefs featured at the Fou de Pâtisserie store in an array of wondrous sweet treats, available either to click and collect or for delivery. Go on, treat yourself – why not!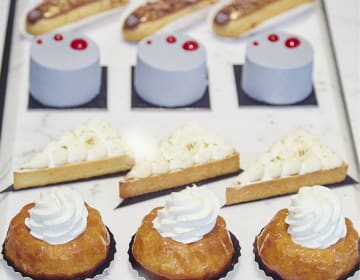 The world's best pastry chef at home
Cédric Grolet, the young and talented chef at Le Meurice and rated the best pastry chef in the world, now comes to you for breakfast…and dinner…and maybe even teatime, too. Find the maestro's delicious golden pastries and inimitable cakes to click and collect from his two Parisian stores, in the Opéra district and at Le Meurice. A real treat for the taste buds!
Du pain et des idées
The reputation of the Du pain et des idées bakery is well-established; to enjoy their breads and pastries without queuing, you can order online. To continue enjoying the taste of pain des amis or chocolate pistachio snails, express collection at the Du pain et des idées bakery is the safest option!
Yann Couvreur
Under his Fox brand, Yann Couvreur's pastries and desserts are available for delivery. Every Monday, to start the week off right, order a Reconfin' box, a delicious sweet and savoury box for 2 people, delivered directly to your home in Paris or the inner suburbs.
Pierre Hermé
Pierre Hermé is one of the greatest pastry chefs in France and it is impossible to make it through lockdown without his world-famous macarons!
You can still enjoy your favourite treat in complete safety: order online to appreciate the pastry chef's expertise in boxes of sweet treats and macarons.
Stohrer
Even if it's your dream to set foot inside the oldest pastry shop in Paris, make sure you place your order in advance on the Stohrer website, to avoid waiting inside the shop. To ensure that Jeffrey Cagnes has time to prepare your chosen delicacies, place your order 48 hours in advance. The legendary rum baba and puits d'amour are waiting for you!
Lenôtre
Lenôtre, Paris' high-end delicatessen, remains open in accordance with health and safety rules, but the safest option is to take advantage of free delivery via Chronopost for orders of €50 or more.
Sample the famous jasmine, hazelnut praline, lemon, caramel or pistachio macarons… the choice is huge!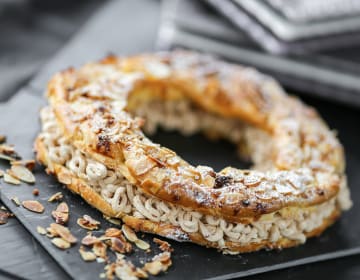 L'éclair de Génie
Christophe Adam offers a collection of éclairs as beautiful as they are delicious, to enjoy at any time of the day. A variety of flavours and a monthly L'Eclair de Génie selection can be found at the famous pastry chef's new pop-up store www.leclairdegenieshop.com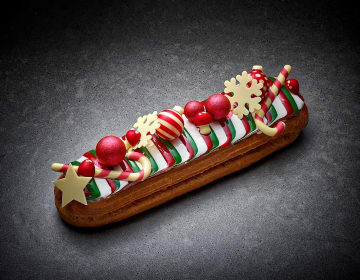 Dalloyau
The creator of the famous Opéra dessert, Dalloyau, is offering click & collect in its 4 Parisian shops, as well as a delivery service in Paris and the surrounding area.
You might also like...
Copyright image: @Nathalie_Toure