2023 Rugby World Cup in the Paris Region
Inspiration

2023 Rugby World Cup in the Paris Region
The highly anticipated international competition is getting closer and closer. After a magical victory on Saturday 19 March 2022, the French national team confirmed its position as leader by winning its 26th Six Nations Tournament and its 10th Grand Slam.
After having touched the Webb Ellis Cup with their fingertips on 3 occasions, the French team is counting on victory in the 2023 edition, which is also organised on French soil. For the French, it is now time to prepare!
The Rugby World Cup has been held every four years since 1987 and is considered the Holy Grail of international rugby. This year, France will host the 10th in history: in front of more than 80,000 spectators and before the eyes of the whole world, they will be 600 players from the 5 major continents and divided into 20 teams, dreaming of the William Webb Ellis trophy awarded to the winning country.
Twelve teams have qualified directly for France 2023 based on their performance at the previous Rugby World Cup in Japan three years ago. South Africa, England, Wales, New Zealand, Australia, Ireland, Japan, France, Scotland, Italy, Argentina and Fiji were the first to secure their ticket to France. And recently Samoa, Uruguay, Georgia and Spain have also confirmed their presence at the competition.
The 2023 Rugby World Cup will have 10 host cities (Bordeaux, Lille, Lyon, Marseille, Nantes, Nice, Paris, Saint-Denis, Saint-Etienne and Toulouse) and only one stadium in the Paris Region but not the least: the Stade de France.
In 2007, the Stade de France already hosted the World Cup, and true rugby fans still remember the unmissable opening ceremony. With a hundred or so dancers and musicians, the show launched the international competition with brio, which is also shaping up to be very emotional in 2023.
52 days of sporting passion and 10 matches at the Stade de France to thrill us all!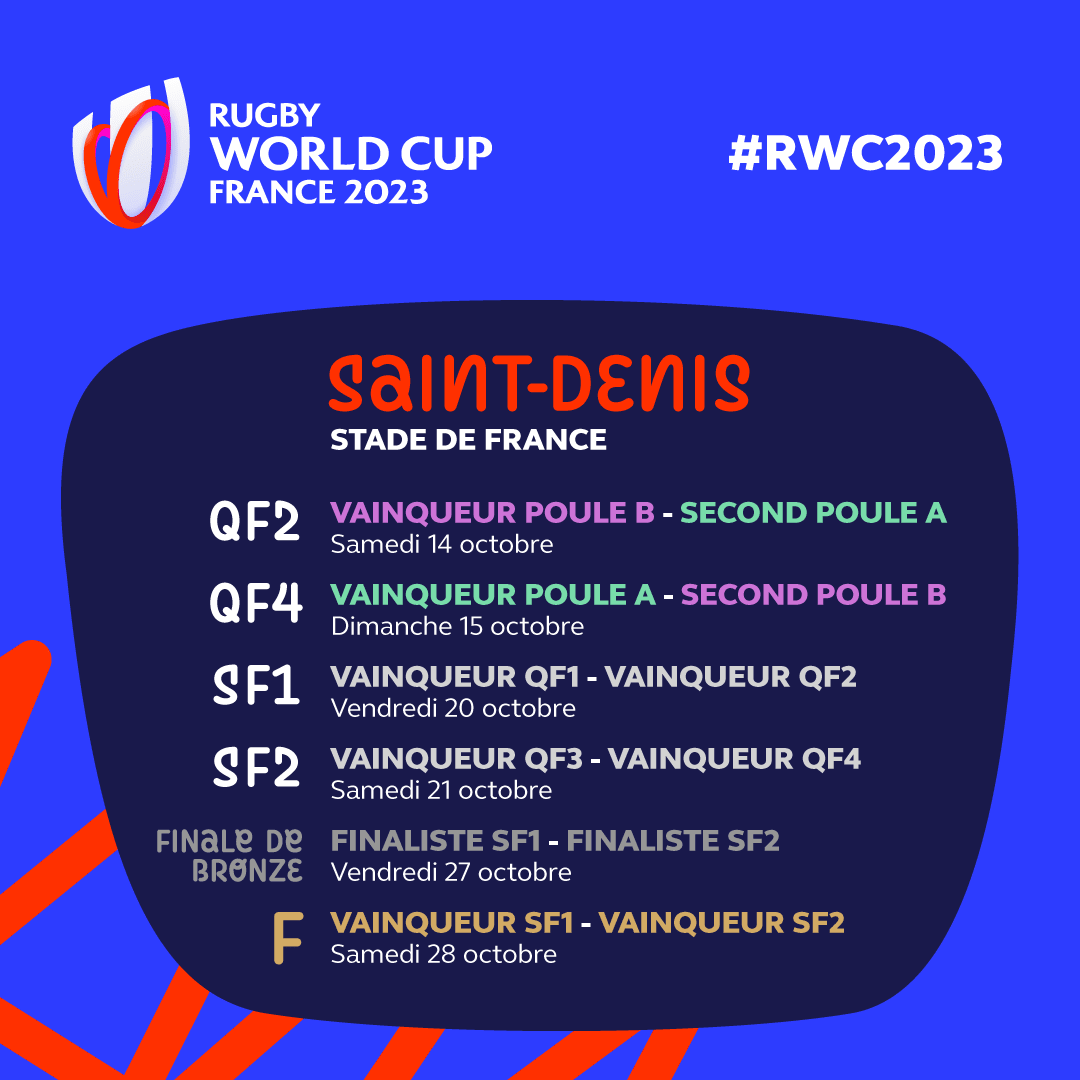 Discover the calendar of matches to be held at the Stade de France in the Paris Region
France – New Zealand: 08 September 2023

Australia – Europe 1: 09 September 2023

South Africa – Ireland: 23 September 2023

Ireland – Scotland: 07 October 2023

Quarter-final 2 (Winner of Group B – Second in Group A): 14 October 2023

Quarter-final 4 (Winner of Group A – Second in Group B): 15 October 2023

Semi-final 1 (Winner of QF1 – Winner of QF2): 20 October 2023

Semi-final 2 (Winner of QF3 – Winner of QF4): 21 October 2023

Third-place play-off: 27 October 2023

Final: 28 October 2023

In which bars can you watch rugby matches in Paris Region? Our world tour barathon
To start preparing your visit, discover the must-see sites around the Stade de France
Copyright image: 2019 World Rugby © Rugby World Cup France 2023