2023 Rugby World Cup in the Paris Region
Inspiration

2023 Rugby World Cup in the Paris Region
With some tickets going on sale to the general public from 6 April 2021, this highly awaited international tournament is getting closer every day. Check out the calendar of matches to be played in the Paris Region and start dreaming!
The Rugby World Cup has been played every 4 years since 1987 and is the Holy Grail of international rugby. In 2023, France will host the 10th edition. In front of over 80,000 spectators and in with the whole world looking on, 600 players representing 20 teams from around the globe will battle it out for the Webb Ellis Cup.
The 2023 Rugby World Cup will have 10 host cities (Bordeaux, Lille, Lyon, Marseille, Nantes, Nice, Paris, Saint-Denis, Saint-Etienne and Toulouse) and just one playing venue in the Paris Region: the Stade de France.
52 days of sporting passion and 10 matches at the Stade de France to thrill us all!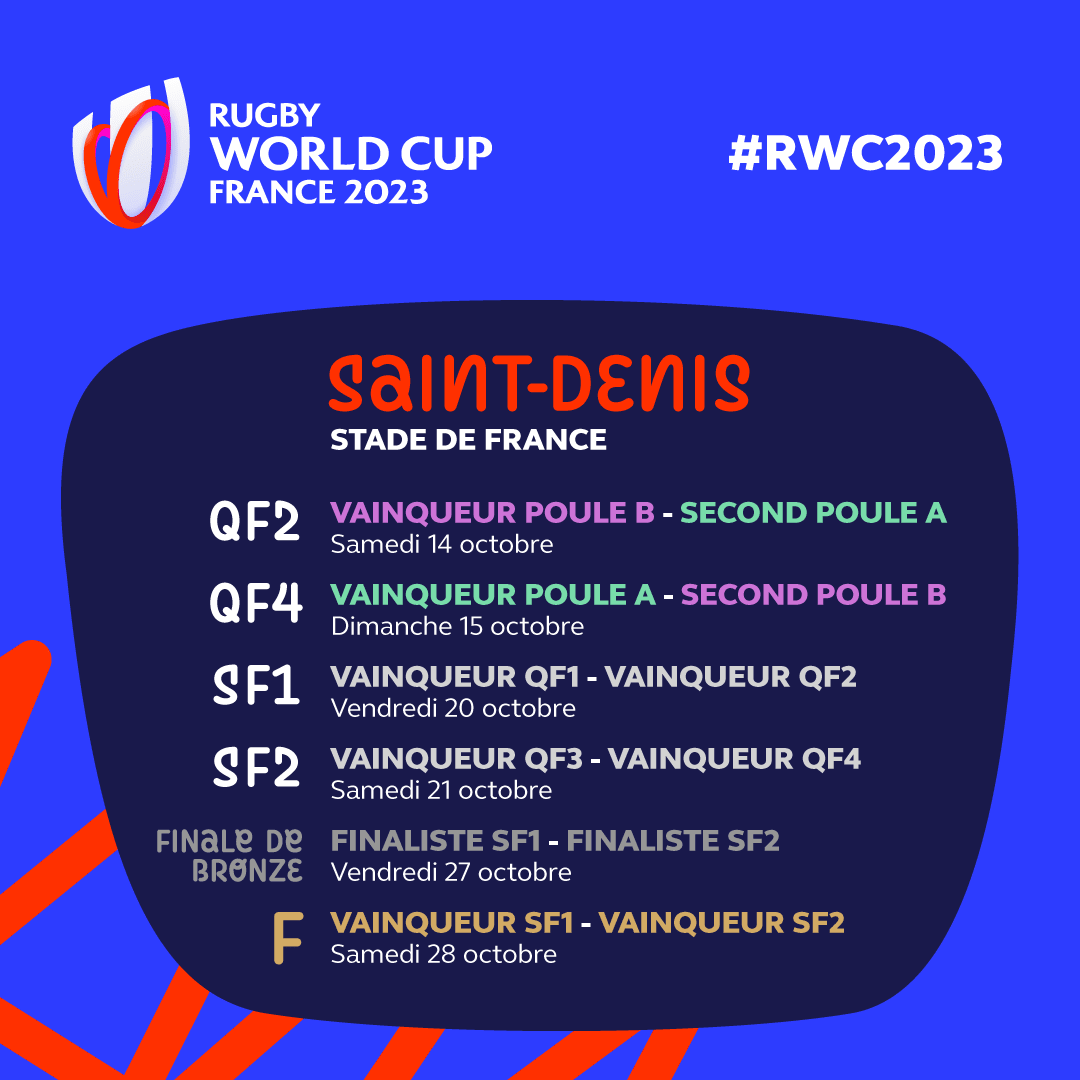 Discover the calendar of matches to be held at the Stade de France in the Paris Region
France – New Zealand: 08 September 2023

Australia – Europe 1: 09 September 2023

South Africa – Ireland: 23 September 2023

Ireland – Scotland: 07 October 2023

Quarter-final 2 (Winner of Group B – Second in Group A): 14 October 2023

Quarter-final 4 (Winner of Group A – Second in Group B): 15 October 2023

Semi-final 1 (Winner of QF1 – Winner of QF2): 20 October 2023

Semi-final 2 (Winner of QF3 – Winner of QF4): 21 October 2023

Third-place play-off: 27 October 2023

Final: 28 October 2023

Copyright image: ©Stade de France® -Macary, Zublenaet Regembal, Costantini -Architectes© ADAGP -Paris 2018 ©F. Aguilhon C. Jamet