Enjoy the festive season at Disneyland® Paris and in the surrounding area
Inspiration

Enjoy the festive season at Disneyland® Paris and in the surrounding area
From 13 November to 9 January 2022, Disneyland® Paris is being transformed into a world of magic and enchantment for the end of year festivities. A unique opportunity to organise a truly unforgettable stay as a family.
And did you know? As well as seeing your favourite characters at the Disneyland® Paris parks, you also have the possibility to enjoy a stay and a great time at Villages Nature, to meet the residents of the Sea Life aquarium while learning more about life in the ocean, to shop till you drop and find the perfect gift in the 110 shops at La Vallée Village, to hop on board for a panoramic balloon ride and to improve your swing at the Disneyland golf course… Discover all our suggestions to help you plan your own magical break!
Experience an enchanted Christmas just like the Snow Queen… at Disneyland® Paris
From 13 November to 9 January 2022, Disneyland Paris will carry you away to a world of magic and enchantment. You'll be greeted by a huge sparkling Christmas tree when you arrive at the park and Main Street is decked out with illuminations to light your way to Sleeping Beauty's castle. Mickey Mouse and his friends, Peter Pan, Cinderella and all the Disney princesses, Jack Sparrow, Lilo and Stich and all your favourite characters will be there to welcome you. Some amazing selfies await! The parade gets underway and the Disney Illuminations event with its fireworks and light projections offers the perfect way to round off this amazing, Christmas-themed day!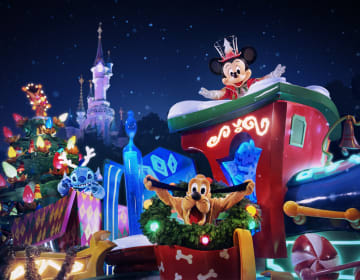 Fly like Dumbo… on board Disney Village's magical panoramic balloon
Situated opposite the entrance to Disneyland® Paris, Disney Village's alleys include cinemas, restaurants, shops, activities and other attractions. Soar into the sky with the panoramic balloon and discover the park from above, at an altitude of 100 metres. Viewed from above, Sleeping Beauty's castle is even more impressive!au !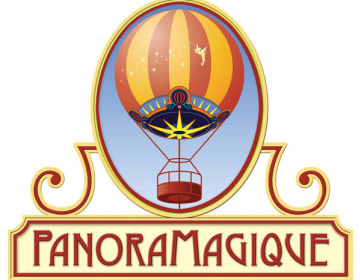 Discover an undersea world like Sebastian the crab… at the Sea Life aquarium
Barely 2 km from the entrance to Disneyland® Paris, in the heart of the Val d'Europe shopping centre, you can admire the graceful underwater ballet of the sharks, sea horses and rays at the Sea Life aquarium. Grouped together by geographical region, each species of fish lives in its element. Discover the history of the oceans and their inhabitants and help feed the turtles for an unforgettable moment to be shared as a family.
Find the right shoe for your foot, just like Cinderella… at La Vallée Village
Less than 5 km from the entrance to Disneyland® Paris and 6 minutes on foot from the Sea Life aquarium, laid out like a small village with its elegant houses, La Vallée Village is an open-air paradise for fashion lovers. Stroll through the cobbled streets picking out your favourite items from Sandro, Gucci, Maje, Longchamp or Burberry. With its 110 stylish brands for adults and children, its kid-friendly restaurants, its fully pedestrianised area, its ice cream sellers for a refreshing break and even a playpark where you can have fun, it's the perfect place go shopping as a family before and during the festive season!
Enjoy a stay in a natural setting, just like Mowgli… at Villages Nature Paris
Less than 7 km from the entrance to Disneyland® Paris, experience a stay in a cottage in the middle of a forest. With attractions including bike rides during which you can discover the local fauna and flora, Aqualagon with slides, a wave pool and an outdoor lagoon heated all year round at 30 degrees, a Deep Nature® spa with sauna, steam bath and massages… there's something for all the family to help them relax and unwind for the perfect end to the year.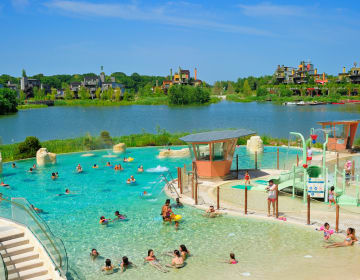 Improve your swing at the Disneyland golf course, on a green shaped like Mickey mouse
Are you a seasoned golfer or have you always been tempted to give it a try without actually getting round to it? Located less than 5 km from the entrance to Disneyland® Paris, the Disneyland golf course has everything you need to get you keenly hitting that little white ball. Test your swing on the green. Suitable for all abilities and ages, with the added novelty of holes in the shape of Mickey Mouse's head! You can even try your hand at the 2018 Junior Ryder Cup course. Enjoy a fun, sporting afternoon as a family, whatever the time of year!
Situated a little further away, you'll also enjoy…