The Paris Region Adventures Treasure Hunt
Services

The Paris Region Adventures Treasure Hunt!
Discover our treasure hunt using this free app. Set out with your family and explore the secrets of Paris and its region, enjoy adventure after adventure and collect a great many characters!
Want to know a great way to explore Paris Île-de-France and the region's hidden gems?
Use this fun smartphone app specially designed with kids in mind!
Paris Region Adventures is a serie of 50 adventures and a fun way to cross the region and discover its cultural heritage and its tourist hotspots and their secrets.
It is a giant treasure hunt taking in several towns in the eight départements of the Ile-de-France region. Children can use the application to tackle a number of challenges, following the clues they unearth as they go along.
The 50 territorial adventures are split into a series of missions, each taking around an hour and a half. They can all be done separately, in any order, depending on the area the children and their parents want to explore.
From one adventure to other, from mission to mission and challenge to challenge, families will encounter historical figures and contemporary personalities from the world of art or sport.
Using GPS and image recognition technologies, the app invites you to solve hundreds of clues for a different way to tour the region.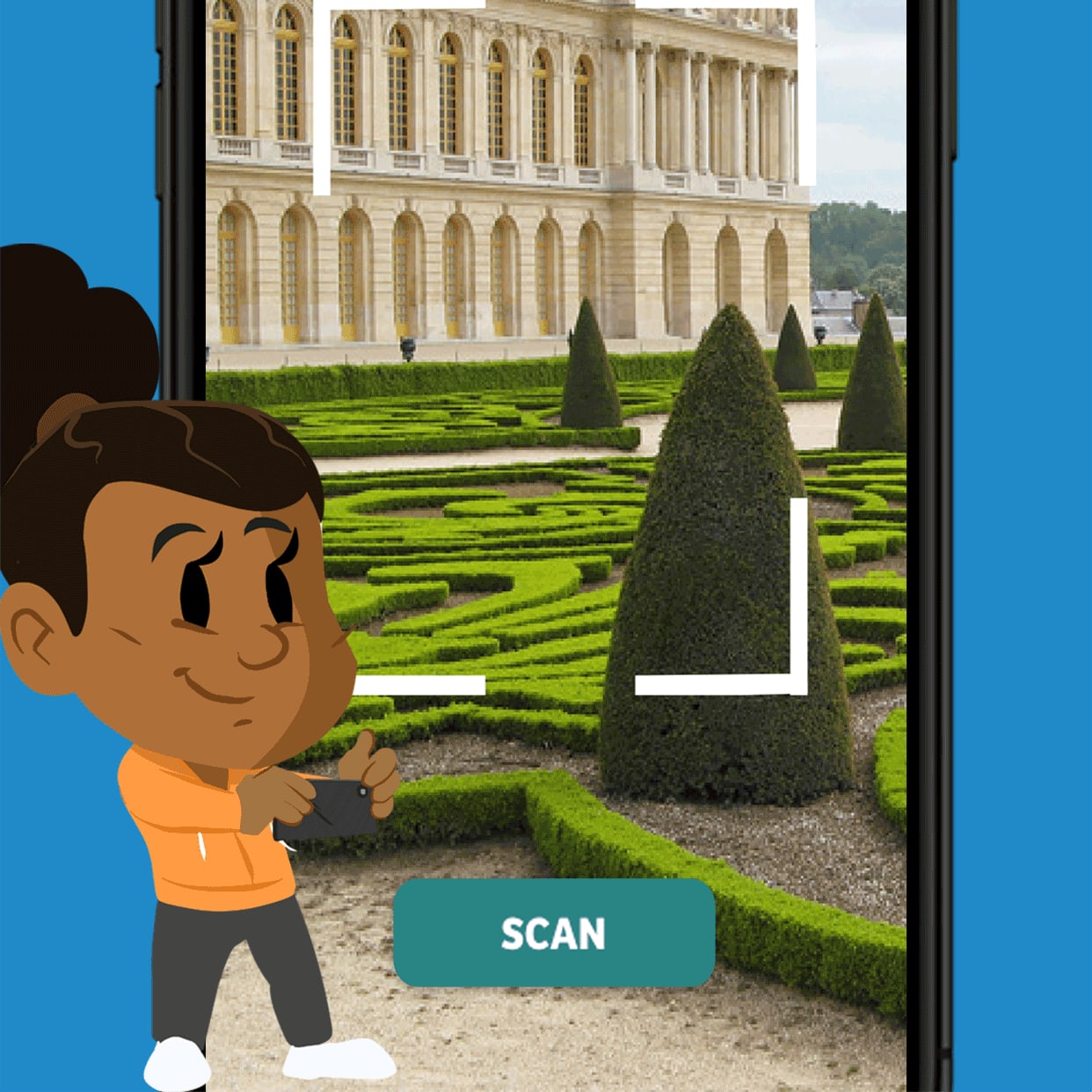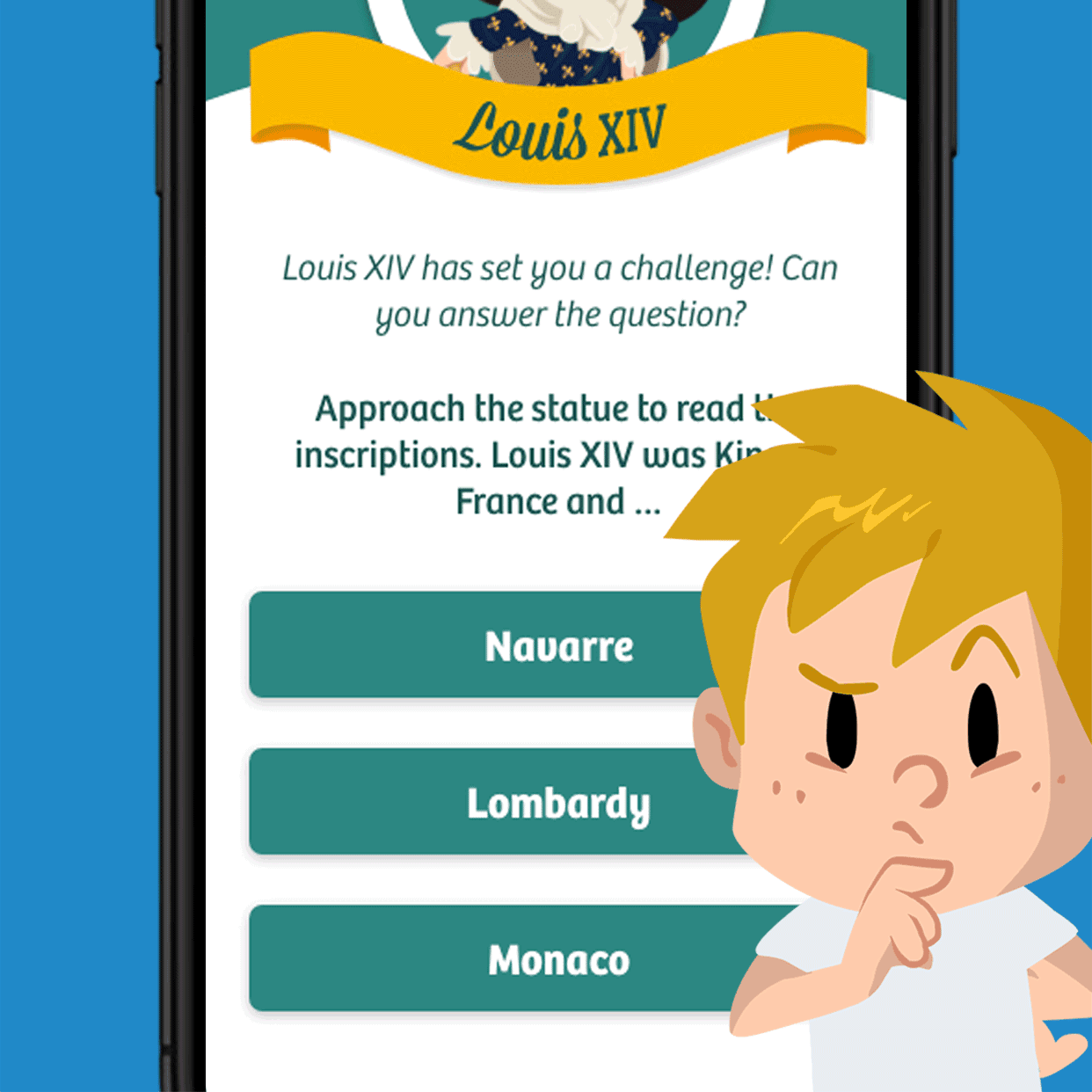 So, are you ready?!
Select your adventure and set off to explore different districts of Paris (around the Louvre, the Eiffel Tower, the Seine riverbanks, Sacré-Cœur, Pompidou Centre, Parc de La Villette, Pantheon, Bibliothèque National de France, Opéra and Paris department store) or the towns of Saint-Denis, Vincennes, Versailles, Provins, Auvers-sur-Oise, Milly-la-Forêt, Meaux, Fontainebleau, Saint-Germain-en-Laye, Vitry-sur-Seine, Pantin, Boulogne-Billancourt, Sceaux, Rambouillet, Dourdan, La Roche-Guyon, Poissy, Chevreuse, La Défense, Rueil-Malmaison, the meanders of the Marne, Coulommiers, Melun, Corbeil-Essonnes, Saint-Ouen, Luzarches, Enghien-les-Bains, Orsay, Jouy-en-Josas or Moret-Loing-et-Orvanne, Etampes, Yerres, Nemours, Château-Landon, L'Isle-Adam, Issy-les-Moulineaux, Haÿ-les-Roses, Blandy-les-Tours, Montreuil, Bougival, Clichy-la-Garenne, Cergy, Louveciennes and Carrières-sur-Seine !
How to play virtually from home?
A new functionality is now available with the option to play from home! You don't have enough time to plan a 1.5 hour outing with the kids or you simply want to keep warm? You can now play from your sofa with the remote play module.
The first themed adventure is Olympic sports! Prepare your children for the Paris 2024 Olympic and Paralympic Games.
Let them discover the magic of the games, take a virtual tour of the competition venues in Paris and its region and meet the French athletes emblematic of their sports.
Although the Paris Region Adventures gameplay has been adapted, the main principles of the track game remain the same.
Go virtually to the outskirts of a Paris 2024 competition venue, the game master will ask you to bring back three objects before giving you access to the stadium.
Once inside, immersive images, scans and quizzes will allow you to answer challenges to uncover the key athletes in their sports.
We have a lot of surprises in store for you with real sports champions, Olympic and Paralympic athletes who have made history at the Games and rising stars discovered in Tokyo or after.
These athletes, as well as historical or current characters from the artistic world discovered during the 50 territorial adventures, can be collected in the character gallery. Will you be able to recognise them all?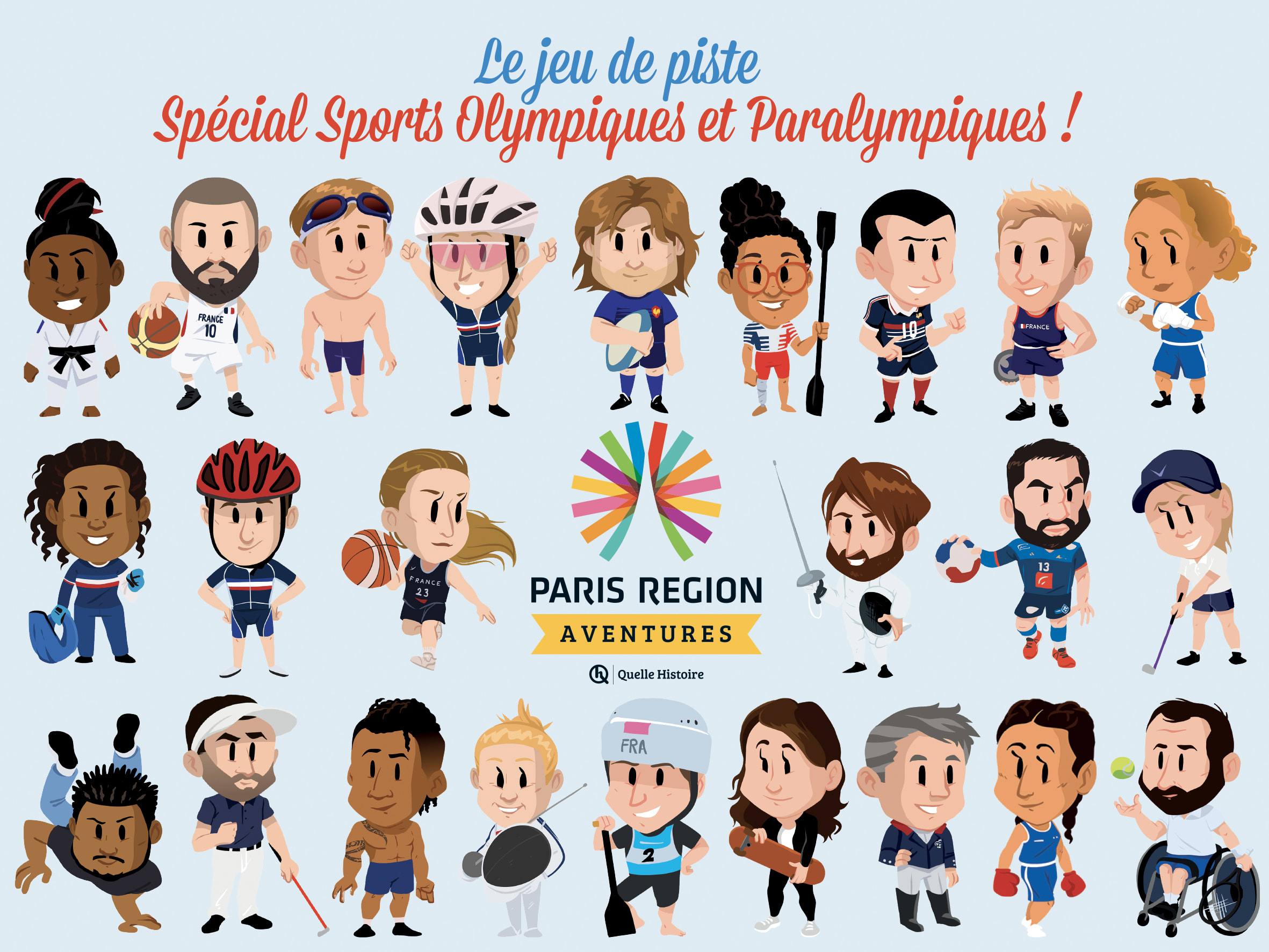 If you like fencing, boxing, judo, athletics, football, skateboarding, rowing, rugby, basketball, BMX, breakdance, cycling, climbing, swimming, tennis, handball, equestrian sports, mountain biking, pentathlon, handball, etc., you are bound to have a great time!
Discover the Paris Region Adventures in video
Download the Paris Region Adventures map
Choosing which one is your first challenge! Download the map of all the adventures and read the descriptions to make your choice.
Interested in culture, nature, or just want to escape for a while? Fan of sport or of street art? Or are you more of a gourmet? There's something for everyone!
Good luck!
Other connected services
Copyright image: Quelle Histoire